"Abkhazian Church" leader sends letter to Georgian Patriarch
By Mzia Kupunia
Thursday, November 19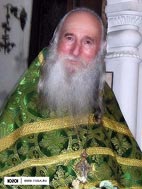 The self-proclaimed head of the Abkhazian Church, Vissarion Aplia, has asked the Georgian and Russian Patriarchs recognise the "canonical status" of the Abkhazian Orthodox Church,
Abkhaz TV
reported on Wednesday.
In a televised address to Ilia II and Kyril of Russia Aplia said that historically the Abkhazian Church was independent and never belonged to any other Patriarchate. "We confirm in front of God and the nation that we have never received any epistles, congratulations or spiritual support from the Georgian Orthodox Church," Aplia said. "Despite Georgia's continuous aggression towards us, we have never violated canonical rules," he said.
Along with the televised address Aplia has sent the letters to the Patriarchs of the two countries making the same request,
Interfax
news agency reports. This letter informs Patriarch Ilia II of the decision made at the meeting of the so-called Abkhazian Church on September 15 to leave the Georgian Patriarchate. "We decided at the meeting to inform the Georgian Patriarch first about this decision," Interfax quoted Aplia as saying. "Nothing could be more joyful for the Mtskheta Catholicon than having a brother church – the Abkhazian Orthodox Church."
The decision of the Abkhazian Church had a "serious" basis, Aplia said in the letter. "Since 1993 our church, our parish and our territory, which full of love of Christ, have been abandoned. There has been no precedent in which an abandoned Church has survived, however in our case it has happened, and on the contrary, faith and love of Christ have become stronger here," he added. The Abkhazian Church does not belong to any other Orthodox Church jurisdiction, Aplia claims. "We live in our homeland and we ask you to help us set up our own Church in Abkhazia," Aplia tells the Georgian Patriarch, according to Interfax.
Vissarion Aplia declares officially in his letter that the 'Abkhazian Church' has split from the Georgian Patriarchate and that the Tskhum-Abkhazian Diocese was renamed the Abkhazian Orthodox Church, comprising the Sukhumi and Pitsunda Eparchies, on September 15, 2009.
Aplia urged the Russian Patriarch to recognise his Church as canonical as soon as the decision to leave to Georgian Patriarchate was made. The Russian Patriarchate rejected this request. "The Russian Patriarchate believes that changes of political borders do not mean changes of canonical Church borders," Archbishop Ilarion of Volokalamsk, The Russian Patriarchate's Spokesman on External Relations, said in September.
The Georgian Patriarchate has not made any comments on Aplia's letter so far. Analysts suggest that Aplia's statements are aimed at ensuring the "final occupation" of the Georgian territories by Russia. "The Kremlin is trying to destroy the final link between Georgia and de facto Abkhazia. However, I do not think the Russian Patriarchate will change its non-recognition policy," analyst Gocha Gvaramia said.