Gender reporting in focus in Tbilisi
By Salome Modebadze
Friday, November 20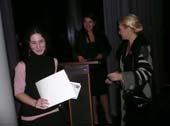 The United Nations Population Fund held a training session for journalists on "Gender and Gender Reporting" at the Radisson Hotel on November 20-21. The objective of this was to strengthen the professional capacities of journalists, raise their awareness of issues of gender equality, domestic violence and women's rights and promote a new approach to the media portrayal of women and men in public life in Georgia.
Tamar Khomasuridze, the UNFPA Georgian Office head, explained the purpose of the event to The Messenger. "The training on gender reporting for media professionals is one of the partnership initiatives we are undertaking to mark the 15th anniversary of the International Conference on Population and Development. Through enhanced interaction and dialogue with media professionals, UNFPA advocates gender equality, equity and the empowerment of women. Although the situation in this area has improved in recent years, women's rights issues remain of priority importance. Therefore, working with the media is crucial in order to advance a gender vision within the media and promote equal relationships and an environment free of gender-based violence in Georgia."
Representatives of local media organisations were selected to participate in the two-day training conducted by UNFPA experts. Nana Berekashvili, Head of the Gender Division of ICCN, spoke about the importance of gender equality as a principal key to the creation of a safe and peaceful society throughout the world. Tina Tsomaia, Programme Coordinator at the Caucasus School of Journalism and Media Management, spoke about the role of the independent media in reporting domestic violence. She also showed a film called "Sakhli" (Home) about domestic violence and gave media representatives the opportunity to imagine how they would report such issues. Tina outlined the three main principles of journalism according to international experts. "The whole progressive world agrees that a good journalist should 1) serve the truth by obtaining information from truthful sources, 2) check this information against other known facts and 3) serve society as a whole rather than particular political or social interests," stressed Tina.
Lali Papiashvili, Chair of the Inter-agency Council on Domestic Violence, and Rusudan Kirvalishvili, Vice Speaker of Parliament and Chair of the Advisory Council on Gender Equality established by the Chair of Parliament, expressed their gratitude for the training and readiness to cooperate with the media on this issue. They spoke about ways of combating domestic violence in Georgia within the frameworks of legislation and social networks. The training had a very positive impact on both the trainers and the media representatives, who obtained important experience in the field of gender-based violence in Georgia and ways of reporting it. All the participants were awarded UNFPA certificates at the conclusion of the event.