New educational management programme at Ilia Chavchavadze State University
By Messenger staff
Tuesday, November 24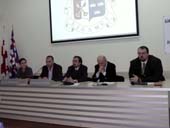 On November 20 Ilia Chavchavadze State University (ICU) and the USAID Education Management Project (EMP) celebrated the launch of a new two-year Masters of Education Administration Programme at the ICU conference hall. Nika Gvaramia, the Minister of Education and Science and Dr. Gigi Tevzadze, Rector of ICU, delivered the opening speeches.
Thirty two students of the Masters of Education Administration Programme celebrated its launch along with special guests from the U.S. Embassy, USAID, Ministry of Education and Science (MES), University of California, Los Angeles (UCLA), international organisations operating in Georgia, representatives of Education Resources Centres, school principals, representatives of civil society organisations and the media.
The new Masters programme will equip future education leaders with the management skills necessary to improve administration at their schools and universities. Graduates will acquire knowledge of research and analysis of educational and social issues. The programme courses cover areas such as education leadership, strategic and school operational management, finance, personnel practices, facilities management and safety, education systems, instructional and curriculum leadership, curriculum design, standards and accreditation, school-to-community relations, the politics of education and public-private partnership.
This Western-level programme will be run by qualified Georgian professors with the guidance, support and practical classes being conducted by UCLA professors and academic experts. The curriculum has been developed in accordance with the requirements of the Bologna Process and involves both theory and practical field experience.
USAID's three-year Education Management Project aims to assist the Government of Georgia in building management capacity in the education sector and improving education policies. EMP is collaborating with MES to design and pilot a Student Information System, a component of the Education Management Information System (EMIS), design an alternative school financing approach that would address the needs of schools in rural and mountainous areas and strengthen the regulatory and policy environment to enhance decentralised management systems through the greater empowerment of regional actors.