Saakashvili praises his revolution
By Etuna Tsotniashvili
Wednesday, November 25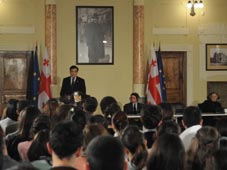 "The choice Georgia made six years ago was of a very bright thing - the future… our choice has only one name - Europe," President Mikheil Saakashvili stated at the National Library of Georgia on November 23, the sixth anniversary of the Rose Revolution, whilst assessing the country's achievements since 2003.
Saakashvili said that Europe is associated with independence, democracy, freedom, peace and cooperation, and with its European friends Georgia will do its best to assert these values against occupation, violence and the attempt to revive the Soviet Union. "The democratic way will win in Georgia," the President stated, adding that the real revolution in Georgia did not end on November 23, 2003; it began six years ago and continues today "with more momentum then ever before."
Saakashvili explained that a liberal democratic revolution does not simply mean waving flags. "We saw the Rose Revolution and have then seen many times since a miserable attempt to imitate it [the Rose Revolution] by various political parties," he said. "Georgia has demonstrated to the entire region that freedom does not mean chaos; that it is not necessary to kill journalists in order to increase the efficiency of the Government, as often happens in many countries in our neighbourhood."
Saakashvili highlighted that Georgia is in 11th place in the World Bank's Ease of Doing Business Rating, despite the fact that six years ago Georgia had a huge corruption problem. "Police are not taking bribes any more. We have created a system where everyone can hold protest rallies," he said.
The President declared that Georgia is a "refutation of the Kremlin's propaganda" and that is why Russia cannot bear it. He also commented on Russian Prime Minister Putin's remark at his meeting with Ukrainian PM Yulia Tymoshenko in Yalta that "If the two Presidents [Saakashvili and Ukraine's Yushchenko] decide to have dinner together, they'd better not to wear ties. Ties are expensive these days... Well, you know what I mean." Putin was alluding to video footage of Saakashvili chewing his tie as he waited to be interviewed during the last year's August war. "When the leader of such a huge country has nothing better to talk about except a neighbouring country's leader's tie, this means that we have succeeded," Saakashvili concluded.
Saakashvili's speech was given while he was meeting a group of students. Former Spanish PM Jose Maria Aznar was also in the audience at the National Library. Saakashvili expressed his hope that the Rose Revolution will achieve huge positive results. "The Rose Revolution was one of the most important parts of our history, a triumph of Georgians' European values," the President stated.
Late in the evening of 23 November a new monument called "Tornado of Hearts", a symbol of multiethnic Georgia, was erected at the President's Palace. Its creator, Spanish architect Alberto Domingo, emphasised that the idea of transparency conveyed in the monument was born after a visit to Georgia. President Saakashvili and Catholicos-Patriarch of All Georgia Ilia II attended the unveiling ceremony of the monument.