Agriculture Minister reports to MPs
By Messenger Staff
Thursday, November 26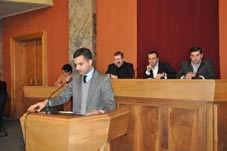 On November 24 Minister of Agriculture Bakur Kvezereli presented a report on the Ministry's activities in the current year to the Agriculture Committee of Parliament.
Kvezereli highlighted the Ministry's fulfilment of its duties and its initiative to modernise agricultural techniques which has attracted investments. He also outlined the work undertaken within the framework of the Melioration Systems Rehabilitation programme. The Minister also informed committee members about the current state of citrus production.
Kvezereli introduced a bill of amendments and additions to the administrative criminal code of Georgia initiated by the Government for discussion. It was unanimously agreed that this should be discussed at a plenary session of Parliament.
MP Lasha Tordia also presented amendments and additions to the law on the Declaration of Private Ownership of Lands in the Use of Physical and Legal Persons of Private Law at the committee meeting. These elucidate the terms: "private-ownership without license" and "interested individual" and introduce the new terms "Building "and "Temporary Building." Committee members fully supported the presented bill.