Burjanadze presents her party's economic vision
By Mzia Kupunia
Friday, November 27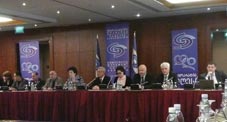 Former Parliament Speaker and leader of the Democratic Movement-United Georgia (DMUG) Nino Burjanadze presented her economic programme on November 26, on the anniversary of the founding of her party. Speaking at the Courtyard Marriott Hotel before the presentation, which was mainly focused on criticism of the current Government's economic policy, Burjanadze said that the Movement had operated in "difficult conditions" during its first year. "The Movement worked under pressure and blackmail, however all its members remained devoted to the party's ideals and democratic values," she said.
The Government has betrayed the ideals of the Rose Revolution, Burjanadze said, citing this as her reason for moving into the opposition and establishing her own party. "The main aim of the Rose Revolution was to bring the country a normal mode of development, however the Government has failed to do this," she said.
Burjanadze assessed the current state of the Georgian economy as "dire". "Georgia is like a third world country right now. It consumes more than it produces, despite the fact we are an agricultural state. The Democratic Movement-United Georgia has a specific plan for how to save Georgia's economy," she said.
Member of the DMUG and economist Nodar Khaduri said that the August war had revealed the problems in the Georgian economic system. He said that there is an urgent need to establish a new economic policy. "The Government had carte blanche to make the right changes in the economic field, however it has been unable to make use of this advantage," he said. Khaduri suggested that the State should become the partner of business and not its enemy. "The economy should be innovative and measurable," Khaduri said "Businessmen and ordinary citizens should know what they can expect not only in the short term but also in the longer term," he said.
The Democratic Movement-United Georgia's economic plan states that establishing well-developed small businesses and focusing on agriculture are national priorities. Agriculture should be in primary focus and those working in this field should be appreciated accordingly, DMUG members said. Introducing innovative technology for extracting raw materials, processing them and turning them into the products demanded on the world market could promote the revival of the economy, according to the DMUG economic team.