Environmental Management for Georgian Armed Forces
By Messenger Staff
Friday, November 27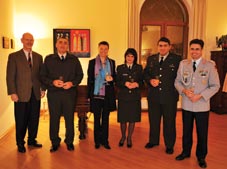 German Ambassador to Georgia HE Patricia Flor held a reception on the occasion of the conclusion of the Establishing an Environmental Management System (EMS) for the Georgian Armed Forces project.
A German delegation consisting of Ms. Comino from the Ministry for the Environment, Nature Conservation and Nuclear Safety (BMU), Mr. Frauenstein from the Federal Environment Agency (UBA), LTC Weckler from the Joint Support Command (SKUKdo) and Mr. Hingst and Mr. Heuschneider from contractor IABG, arrived in Georgia on November 24 and held meetings with Ministry of Defence representatives and the DELTA State Military, Scientific and Technical Centre.
From 2006 to 2009 the German Government supported the Georgian Ministry of Defence in creating an Environmental Management System for the Georgian Armed Forces. The project was implemented by order of the Environmental Protection Agency (UBA) by the contractors IABG (German) and DELTA (Georgian) under scientific supervision.