Detained teenagers' families offered "prisoner exchange"
By Mzia Kupunia
Friday, November 27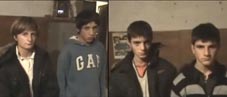 The families of the detained Georgian teenagers said on Wednesday that they had received several calls from de facto South Ossetia. Sopio Tetunashvili, mother of detainee Levan Khmiadashvili, said that an unknown Ossetian woman had called her and offered to help secure the release of her son in exchange of Alan Khachiev, the Ossetian woman's son, who is allegedly detained by Georgian law enforcers. The family of Victor Buchukuri, another detainee, said that they too had received a call making the same offer. However, "No officials from Tskhinvali have contacted us proposing to exchange prisoners," Tetunashvili said.
Although the de facto authorities have promised to let the parents of the underage detainees visit them in jail, no real steps have followed their statement, said Tetunashvili. "Even the staff of the Red Cross Gori Office are unable to enter Tskhinvali and the Red Cross in Tskhinvali is working on this. As far as we know, the local Red Cross visited our children last week. We have not heard from it since then," Sopio Tetunashvili noted.
Officials in Tbilisi claim that the calls should not be taken seriously. Interior Ministry Spokesperson Shota Utiashvili said that many "blackmail" calls might be made to the detainees' families. The Interior Ministry dismissed the allegation that there are any South Ossetian prisoners in Georgia. "I do not know who Khachiev is," Utiashvili said. "Many people might call these families claiming that they possess some information which could help them, there might be blackmail attempts, but what they say should not be taken seriously," he stated.
Radio Free Europe/Radio Liberty's Caucasus Echo
reported on Wednesday that the four Georgian teenagers detained on November 4 in the village of Tirdznisi might be freed in the next couple of days. Tskhinvali-based journalist Temur Tskhovrebov informed RFE/RL, based on an anonymous source, that the de facto authorities are considering freeing them "in the near future". Caucasus Echo reported that Tbilisi Interior Ministry "sources" had confirmed this information but declined to make official comment on it.
Meanwhile the de facto General Prosecutor's office of South Ossetia has drawn up a criminal case against the Georgian teenagers which will be taken to court, information agency Res has reported. They are charged with the illegal possession of arms and illegal "border" crossing, the de facto Prosecutor's Office has said.
The European Parliament released a statement on Thursday demanding the "urgent" and "unconditional" release of the Georgian teens. The head of the Abkhazian Government-in-Exile, Giorgi Baramia, has met European Parliament members in Brussels and informed them of the situation in Georgia's occupied territories and the Georgians being held.