Magticom and ZTE find a solution
By Messenger Staff
Monday, November 30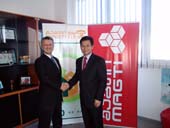 Chinese company ZTE has asked its representatives in Georgia to resolve a dispute with Magticom, which says that it has not received the full number of phones it was due to receive under a contract signed with this company within the specified time. Last Friday Mr.Chen Runyun, Counsellor of the Chinese Embassy and Mr.Sun Cheng, ZTE representative in Georgia, visited the headquarters of Magticom and met David Lee, its CEO. After their negotiations
The Messenger
met David Lee and the Chinese visitors.
David Lee told this newspaper: "To begin with I would like to say thank you to
The Messenger
, which is an important resource in Georgia. [Concerning the matter in hand], firstly I would like to stress that I, David Lee, had no intention of insulting any Chinese company, including ZTE. Secondly, Magticom has a strong belief in the high quality and technical leadership of ZTE, which is a world leading provider of telecom equipment and network solutions. This is why we work with them, but as everybody knows we have had a supply problem. Magticom is very grateful for the concern it has heard from ZTE representatives today, each of us trying to find the way to resolve this problem. We have not resolved it yet, but we are working at the highest level to resolve it.
"We have had great assistance from the Chinese Embassy, which has helped mediate to try and find the solution. Next Tuesday Senior Vice President of the company Zeng Li is arriving in Tbilisi. He will visit Magticom and bring with him a solution to the supply problem.
"On Tuesday we will announce to the market when we will resume selling MagtiFix phones. Magticom is totally committed to this project which has proved to be extremely successful. One of the reasons we have these difficulties is because there is such a big demand for the MagtiFix telephones. We have a strong belief that from Tuesday we will have positive news to announce to the market. I repeat, that my intention was not at all to call any Chinese company or ZTE bad companies. My intention was simply to show that we do have supply problems. We are very satisfied with the technical side of the product."
David Lee highlighted that his company is very grateful for the level of involvement of the Chinese Embassy in the matter and for the company's prompt response and assistance and expressed his confidence that the problem will be resolved quickly and efficiently for the mutual benefit of all the parties concerned.
The ZTE representative stressed that the delays in supply to Magticom were occurring due to the late delivery of chipsets from ZTE's provider, something beyond their control. ZTE is doing its best to meet the demand in Georgia and is willing to provide high quality products, high technology and the best service and solutions to Georgian customers through cooperation with Magticom.
Mr.Chen Runyun fully appreciated the effective efforts made by ZTE and the sound mutual understanding which exists between the two companies and emphasised that the Chinese Embassy encourages and promotes the successful cooperation in the telecom sphere between China and Georgia.
The Messenger
will try to follow the development of events in the hope that Georgian consumers will receive their desired product of the necessary quality in due time.