More Japanese aid projects to be implemented
By Messenger Staff
Monday, November 30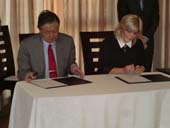 On 26 November the signing ceremony of the following six projects, which are part of the Grassroots and Human Security Grant Assistance Programme, was held at the Residence of Mr. Isamu Azechi, Counsellor of the Embassy of Japan in Georgia. The ceremony was attended by H.E. Mr. Masayoshi Kamohara, Ambassador Extraordinary and Plenipotentiary of Japan to Georgia, and representatives of the Ministries and local municipalities related to the projects.
"Actually, this assistance with basic human needs including education, social and medical care and agriculture is essential to ensure the prosperous future of the Georgian people. I hope that all these projects match the needs of local people and will contribute to the improvement of their lives. I am pleased that the Georgian Government is supportive of us in finding good projects which exactly reflect the needs of local populations. One example is the school rehabilitation project in Akhlo-lalo village, initiated by Mr.Temur Yakobashvili, State Minister for Reintegration Issues of Georgia. I believe that the cooperative relations between the Georgian Government and the Embassy will continuously suggest to us proper directions for assisting the people of Georgia," the Ambassador stated.
The projects which were signed off at the ceremony were:
1) The Rehabilitation of a Kindergarten for Deaf Children in Tbilisi (Implementer, Tbilisi Kindergarten for Deaf Children, Project cost, 84,959 USD)
2) The Rehabilitation of the Second Building of the Regional Orphanage in Saguramo Village in Mtskheta District (Implementer, Momavali, Project cost, 88,700 USD)
3) The Rehabilitation of the School in Akhlo-lalo Village in Marneuli District (Implementer, Sherigeba Ethnic and Religious Relations Centre, Project cost, 74,893 USD)
4) The Establishment of a Primary Health Care Centre in Maradidi Village in Khelvachauri District (Implementer, Welfare Foundation, Project cost, 70,350 USD)
5) The Improvement of a Rehabilitation Centre for Disabled People in Ozurgeti City in Ozurgeti District (Implementer, Guria Regional Association of Disabled People, Project cost, 76,017 USD)
6) The Improvement of the Farmers' Cooperative in Kushchi Village in Marneuli District (Implementer, Heifer International, Project cost, 72,845 USD)
The Grassroots and Human Security Grant Assistance Programme (GGP) contributes to relatively small projects undertaken by municipalities, medical institutions, academic institutes and NGOs aimed directly at the improvement of the living standards of Georgian people suffering from hardship. This grant assistance started from 1998. So far 93 GGP Projects worth 6,334,519 USD have been implemented in Georgia, including the projects mentioned above. The scale of Japan's overseas development aid to Georgia is approximately 156,38 million USD, covering a wide range of areas such as the improvement of economic infrastructure and the agricultural sector, social sector development and cultural field and human resource development.