President celebrates Moslem holiday
By Londa Mindiashvili
Monday, November 30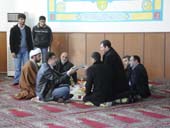 President of Georgia Mikheil Saakashvili visited the Marneuli district on 28 November. The President congratulated the Azeri origin Georgian population of Marneuli on the Moslem feast of Eid al-Adha.
The President entered a mosque in accordance with Moslem custom and talked to clerics. He also drank tea prepared according to Azeri traditions. He presented meat and sweets to the locals. He also talked to local residents and asked them to tell him their problems in detail. He instructed the local authorities to clean the drinking water and drainage system channels.
The President highlighted that the Azeri origin people of Georgia are the brothers of Georgians and that Azerbaijan and Georgia are not only friendly countries but also represent the continuation of each other's culture. These two countries cannot exist without each other. He added that there will be peace in the Caucasus and external forces will not manage to prevent this, previous years having given clear examples of this. "As President of Georgia I love you very much. I congratulate you on the celebration, but it is not only your celebration, it is Georgia's celebration because you are part of Georgia. Your celebration, happiness and success is Georgia's celebration, happiness and success. Your welfare means our welfare. You know the tradition - you help others this year and they will help others the next year. We all should help each other in order to make our Georgia strong," Saakashvili said.
Locals thanked the President for visiting and said that they can feel the situation in Georgia improving day by day. "We pray every day for the future of Georgia and for peace all over the world," said a local.
Moslems living in Georgia will be celebrating the Eid al-Adha festival for three days.