Commit, Act, Demand: we CAN end violence against women
Tuesday, December 1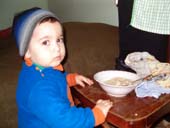 Continuing its commitment to end violence against women and girls, the International Rescue Committee is participating in the worldwide annual
16 Days of Activism Against Gender Violence
. The campaign began November 25 and will end December 10. This year's 16 Days campaign theme is
Commit, Act, Demand: We CAN End Violence Against Women
. Part of IRC's campaign, called Women's Voices from the Georgian Buffer Zone, is taking place in the Shida Kartli/South Ossetia Adjacent Area villages. The UNHCR-funded IRC Protection Monitoring team has organised the campaign.
The Protection Monitoring programme works in 45 villages of the Gori and Kareli districts. It supports extremely vulnerable families and individuals by referrals and emergency allowances. The IRC has two trained resident volunteers in each village.
Manana Amonashvili, IRC's Protection Monitoring Programme Manager, stated: "The Protection Monitoring programme is holding meetings at local council level with IRC volunteers, local teachers, nurses and interested individuals with an emphasis on housewives. Several issues are covered during these meetings: Gender and Society, Gender Equality, Gender Equality in the Legislation of Foreign Countries and Gender Equality in the Legislation of Georgia. We are strongly encouraging participants to speak and ask questions. We are collecting their messages and bringing them to the attention of the Georgian Government and donor organisations."
The Protection Monitoring Programme has identified victims of Sexual and Gender Based Violence and referred them to various organisations. For example, staff found a victim of sexually-based violence and referred her to the Sakhli Psycho-Social Consultation Centre in Tbilisi with her one and a half-year old daughter, Tamar. She was given shelter and lives there. Another victim of Gender Based Violence (GBV), a single mother with her one year and nine month old son Nikoloz was referred to the Shida Kartli Governor's Office. Gori municipality has given her shelter in a building renovated by another IRC programme. She was also supported with a small cash grant under the UNHCR programme. The UNHCR Gori Field Office gave her non-food items: two beds, mattresses, blankets, linen and pots. Now Nika has a chance in the shelter and his mother feels safer.
According to Zurab Mchedlishvili, Coordinator of the Gender Equality Advisory Council under the Chair of the Parliament of Georgia, "Work done by the IRC shows that the Shida Kartli region needs a shelter for victims of violence. Experts say that the number of domestic violence cases has increased after last year's conflict. I am sure that if we have the shelter in Gori, more women can and will say that their rights have been violated. We expect that a shelter will open in 2010 – the Government as well as donors will collaborate on this joint effort."
On 26 November the UNHCR-funded IRC Protection Monitoring programme held a meeting in the village of Ateni, Gori district. Gori Gender Resource Centre Head Nino Sukhiashvili and representatives of the police also attended the meeting. As IRC representative Marie-Lise Coudert noted at the Ateni village event, "Georgian Laws meet international standards. Gender issue understanding and implementation is generally on the same level as in Asia, but on a lower level than in Europe, in part because Georgian women do not Act and Demand in the same way and in part because of a lack of support from society and institutions."
The existence of gender inequality in the country was acknowledged as a fact, but not as a problem. The meeting recognised that gender inequality is viewed as a part of the cultural heritage, and hence any attempt at reducing it is a threat to traditional values. Moreover, gender inequality is deeply ingrained, although not always obvious and readily recognised.