Everyone should help draw up the voter lists, says Bakradze
By Gvantsa Gabekhadze
Tuesday, December 1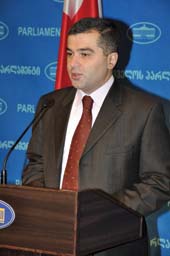 Georgian Parliament Speaker Davit Bakradze suggested at a special meeting in Parliament on November 30 that all political parties should be involved in compiling the electoral registers containing the names of each qualified voter. He said that the voter lists should be improved and some joint mechanism should be adopted by all political forces in Georgia to achieve this. "I suggest to all political parties in Georgia that they should participate in compiling improved voter lists. The lists are always a matter of discussion and to avoid any question about their quality I appeal to all political parties to take part in this process," Bakradze said.
Bakradze spoke with MPs about this initiative at the Bureau meeting after the briefing, and suggested that there are two ways to compile improved voter lists. The first is to create a special group of 8 political figures to work on them and the second is to instruct Precinct Election Commissions (PECs) to undertake this process. "For the first time in Georgia's history the Government and the opposition have reached consensus on such a serious issue as the electoral code. This is another sign that Georgia is becoming a real democratic country. I am sure we will continue our collaboration and improve the voter lists together as well," the Speaker of Parliament stated.
Opposition members have commented on this initiative. Levan Vephkhvadze from the Christian Democrats has said that his party will participate in this process, but there are some serious difficulties involved. "The Christian Democrats will take part in voter list improvement. Drawing up such lists is a very difficult process, as there are a lot of people living in other countries temporarily who have the right to vote here and be included on the register. At the present moment there is no concrete plan for how these kind of obstacles can be overcome, but the party will work with the Government to resolve these problems," Vephkhvadze said.
Jondi Baghaturia, the leader of Georgian Trope, said that he will continue to work with the Government on this and other issues only if his initiative about amendments to the electoral code is accepted. "If a Parliament Deputy decides to take part in Mayoral or some other elections he should first leave Parliament. If this amendment is not adopted it will be difficult to collaborate with the Government," Baghaturia said.
Alliance for Georgia members have been demanding opposition parties' and the public's active participation in compiling electoral lists and on some other important issues connected with electoral environment improvement in Georgia. Some of their demands, especially the high electoral threshold for Tbilisi Mayor elections, have not be taken into consideration by the Government, and the Alliance for Georgia will therefore announce whether its leader Irakli Alasania will indeed run for Tbilisi Mayor, as previously stated, after holding a series of meetings with voters and civil society representatives this week, senior representatives of the Alliance said on November 27. "Everything is possible; this week Irakli Alasania will make a statement himself on this matter," Alliance member Zurab Abashidze stated.
Other opposition parties hold different positions on these elections. The Parliamentary opposition Democratic Georgia, led by Gia Tortladze, will participate in them, as Tortladze said yesterday, but its candidate has not been identified yet. Some sources suggest it might be Davit Iakobidze, Finance Minister from 1993-1997, but the party has made no comment on this. The Conservative Party intends to pursue its idea of holding primary elections to identify a common opposition candidate for Mayor of Tbilisi. Zviad Dzidziguri will be its candidate, while Koba Davitashvili of the People's Party and a Christian Democrat candidate will also take part in these primaries.
Twenty-five million GEL has been allocated in the State budget for holding local government elections next year.