Greece calls for the restoration of OSCE mission in Georgia
By Mzia Kupunia
Wednesday, December 2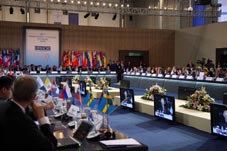 Georgian Foreign Minister Grigol Vashadze is attending the 17th OSCE Ministerial Council Meeting in Athens, which will conclude today, the Foreign Ministry has reported. At the opening of the session Greek Prime Minister Giorgios Papandreou called for the restoration of the OSCE mission in Georgia. Greece currently holds the rotating OSCE Presidency.
"It is necessary to take a step forward and open a new OSCE presence on the ground,"
RIA Novosti
quoted Papandreou as saying. "I am sure that the need for an OSCE presence in the conflict zones of Georgia is higher than ever. OSCE has unprecedented experience and unique tools to promote stability, democracy and rule of law," he added.
The OSCE mission in Georgia was suspended in summer 2009 after Russia vetoed its extension. Russia demanded the setting up of separate missions for de facto Abkhazia and South Ossetia. OSCE member states rejected this.
The 56 OSCE member states' representatives will talk about European security mechanisms at the Ministerial. Talks on this began in June, 2009 at the informal OSCE meeting on the Greek island of Corfu. OSCE Foreign Ministers decided on June 28 to launch the 'Corfu Process' to tackle European security challenges by taking "concrete steps" to restore confidence and prepare the ground for the Ministers' next meeting in Athens in December, a release posted on the OSCE's official website says.
"Traditional security problems remain unresolved as new threats and challenges continue to emerge," the website quotes OSCE Chairperson-in-office, Greek Foreign Minister Dora Bakoyannis, as saying. "These include protracted conflicts and other unresolved tensions, the suspended CFE treaty, the need to strengthen democracy and rule of law in parts of the region, the economic crisis, terrorism, trafficking and instability in neighbouring regions."
Foreign Minister Vashadze is expected to make a speech at the meeting, according to the Foreign Ministry. While there he will meet OSCE Secretary General Marc Perrin de Brichambaut and hold bilateral meetings with Finnish Foreign Minister Alexander Stubb, Austrian Foreign Minister Michael Spindelegger and Swedish Foreign Minister Carl Bildt, the Ministry says. Vashadze will also meet the Foreign Ministers of the Benelux and Baltic states and participate in a session of the Council of Foreign Ministers of GUAM member states. This session will be followed by the GUAM-Visegrad group meeting involving the Foreign Ministers of Hungary and Slovakia.