Tbilisi slams Russia's plan to build new road in North Caucasus
By Mzia Kupunia
Thursday, December 3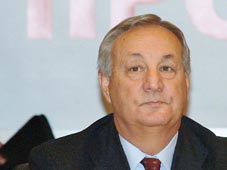 Georgian officials have expressed concern over the possible construction of a road between Kabardo-Balkaria in North Caucasus and Sokhumi. According to Russian and Abkhazian media reports Deputy Chairman of the Russian Government Sergey Ivanov and its Transport Minister Igor Levitin are visiting Sokhumi on December 2-3 to discuss investment in air and rail transport in the de facto republic.
The Russian delegation also plans to negotiate constructing a new road connecting the North and South Caucasus through the mountains, Apsnypress reported. "The new road would ease the transportation of cargo between the North and South Caucasus," Apsnypress quoted the de facto Abkhazian leader Sergey Baghapsh as saying.
Georgian MPs called on the Government to "react urgently" to Russia's North Caucasus road plans. "The construction of the new road is a big threat, as it enables Russia to transport weapons to the Black Sea," Parliament Member Paata Davitaia said. "The road might be used for transporting drugs and for undertaking the illegal actions Russia is unable to take through the Leselidze road," Davitaia suggested.
Meanwhile Georgia has protested against Moscow's decision to conduct air flights to and from the de facto Abkhaz republic. Tbilisi sent an official letter to the International Civil Aviation Organisation (ICAO) on Tuesday. Georgian officials urged it to respond to such violations of Georgia's air space by Russia.
Speaking at the European Navigation Planning Group Session in Paris on December 1 Deputy Economy Minister and Chairman of Georgia's Air Navigation Council Giorgi Karbelashvili also raised the issue of Russia's plans to conduct flights to Sokhumi. "We have demanded that ICAO and other international organisations make urgent decisions on this issue," Karbelashvili said after the session.
Russian Prime Minister Vladimir Putin had announced on November 26 that there was a plan to sign an agreement with the de facto Abkhazian republic about "cooperation in the field of air transport." However Georgian officials assessed Putin's statement as a violation of international norms. "Georgia will apply not only to international organisations and the international community but also the international courts," head of the Temporary Parliamentary Commission on Territorial Integrity Issues Shota Malashkhia told
The Messenger
. "The Law on Occupied Territories gives us the right to do so," he added.