Beeline increasing its presence in Georgian market
By Messenger Staff
Friday, December 4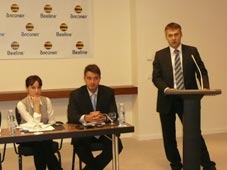 Mobitel Ltd., which provides cellular communications services in Georgia under the brand name Beeline, has a new Director General called Andrey Pyatakhin. The ceremony of presenting the new Director General was held on December 3.
Georgia is very interesting and is distinguished by its high competition in the field of telecommunications, said Pyatakhin, who promised to continue the tradition of taking innovative and non-standard business decisions which has given the company the opportunity to develop successfully. A new advertising video clip was also shown, designed and prepared in Georgia, which was very much appreciated by the audience.
Beeline's income has increased 54% over the last two years and the company continues to develop rapidly. Currently Beeline covers 80% of Georgian territory.