Abkhazia requests recognition from Ecuador
By Mzia Kupunia
Friday, December 4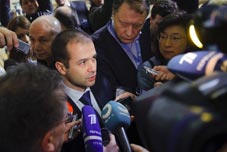 De facto Abkhazia has asked Ecuador to recognise it as independent, the news agency
Itar Tass
reported on Thursday. In an exclusive interview with the Russian news agency, the de facto Deputy Foreign Minister of Abkhazia Maxim Ghvinjia said that Abkhazia has asked Ecuadorean officials to start considering this issue.
"We have presented an official letter to President of Ecuador Rafael Correa asking him to recognise the independence of Abkhazia. We also sent him a number of materials about the history of our country and the history of the conflict with Georgia," Ghvinjia told Itar Tass. "Ecuador is currently studying the materials sent by us and will soon make a statement," the de facto Deputy Foreign Minister said, though he did not specify when the official statement is expected to be made.
During his visit to Moscow on October 28-30 President Correa expressed readiness to recognise Georgia's breakaway regions of Abkhazia and South Ossetia as independent states. They have been recognised as such by only Russia, Nicaragua and Venezuela so far.
A de facto Abkhazian Foreign Ministry delegation, headed by Deputy Minister Ghvinjia and its Head of Protocol Service Asid Inapshpba, is visiting Latin American states. The de facto officials have invited members of Venezuela's Central Election Commission to participate in the upcoming Abkhaz 'Presidential' elections scheduled for December 12. They met representatives of the Ecuador Foreign Ministry on December 1 and the Deputy Chairman of the Ecuador Parliament the following day. The sides discussed economic cooperation between the two states, the Apsnypress news agency has reported. The Parliament of Ecuador is seeking to develop inter-Parliamentary cooperation between the sides and establish relations between the business circles of de facto Abkhazia and Ecuador, according to Apsnypress.
Russia is trying to ensure that a large number of states recognise Abkhazia and South Ossetia as independent, even if these are not "high-level" states, analysts suggest. "Latin American states cannot be considered as decision makers, however they have a vote at the UN," analyst Malkhaz Chemia told The Messenger. He suggested that one of the ways out of the current situation could be starting a dialogue with Russia. "Starting negotiations with Moscow could lift the pressure Georgia is under now," Chemia said.
Fellow analyst Gocha Gvaramia has said that there is little the Georgian Government can do to prevent Latin American countries making statements supporting Georgia's breakaway regions. "There are no judicial regulations which would restrict this. Russia has recognised Abkhazia and South Ossetia as independent states, and now the secessionist authorities, backed by Moscow, are asking the Bolivar-type states to recognise them," Gvaramia told
The Messenger
. "However request does not mean recognition, because they have asked Belarus to recognise them too, and although its MPs have visited Georgia and its occupied territories the Belarus Parliament has not even put discussing this issue on its agenda yet," he said.