Dimitri Shashkin becomes Education Minister
By Gvantsa Gabekhadze
Wednesday, December 9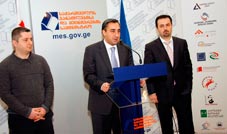 Dimitri Shashkin was appointed Education Minister, replacing Nika Gvaramia, on December 7. Prime Minister Nika Gilauri said that the change was related with the former Minister's intention to study abroad. He has stated that Shashkin will run the Ministry properly as he has already proved his professionalism while Penitentiary Minister. "Dimitri Shashkin has shown that he is an experienced manager", Gilauri stated.
Previous Minister of Education Gvaramia wished success to his replacement. "I think that many positive steps were made to improve the Georgian education system while I was Minister, and I hope and am sure that the new Minister will continue these reforms successfully," Gvaramia stated. Shashkin, who joined the cabinet in February 2009 as Minister of Penitentiary, Probation and Legal Assistance, said that education is the country's strategic sector and the reforms will continue. "Much has been done in this field and reforms will continue and accelerate," he added. The appointment has generally been welcomed. MP Goka Gabashvili, from the majority side, has stated that Shashkin is an excellent candidate for this post. "I can say that Gvaramia has been a very successful Minister and has done much to improve the education system. Now he is replaced with a worthy, widely educated and erudite candidate," Gabashvili said. Non-Parliamentary opposition members have also assessed the appointment positively. Levan Vephkhvadze, from the Christian Democrats, has said, "His appointment is acceptable for us. Our movement has collaborated with the Ministry of Education and I hope this relationship will continue while Shashkin is the Minister." However Jondi Baghaturia, the leader of Georgian Troupe, maintained that Shashkin was more needed in the Penitentiary system. "I cannot see exactly why Shashkin has been moved. Reforms will not now be undertaken in the Penitentiary system as the Government has stopped this by replacing Shashkin. I think Shashkin was more needed there," he added.
Non Parliamentary opposition members are also not opposed to Shashkin's appointment. The Republicans have already contacted the new Minister and underlined some directions in which the Ministry should work. "The Ministry should continue to provide social and financial assistance for teachers and continue the financing and improvement of science and students' assistance programmes," Gela Kvachantiradze said on December 8.
Shashkin's previous post of Minister of Penitentiary, Probation and Legal Assistance may be offered to the opposition. Parliamentary opposition member Gia Tortladze may be offered it, although his feelings about this are not known. Jondi Baghaturia has already stated that he would be happy for the Government to offer this post to Tortladze and he himself would willingly propose Tortladze's candidacy to the Government.
Although Shashkin was not a very well known face to the public till he was first appointed a Minister in February he was familiar to those in the political sphere, as the Resident Georgia Country Director of the International Republican Institute (IRI). The Georgian opposition did not object to Shashkin's appointment in February but expressed concern about him joining the Government at all. Conservative leader Zviad Dzidziguri said that his party had worked with Shashkin before but doubted whether it could now he had joined the Government. "I do not know what sort of cooperation we can have with a second-rate Minister of the Saakashvili administration. I think we had much better cooperation when he worked quite effectively in the non-Governmental sector," Dzidziguri said.
When President Mikheil Saakashvili first introduced Shashkin to the Cabinet he said that he was the best candidate for the post of Penitentiary Minister. Some serious reforms have been undertaken by Shashkin in that role, especially in the direction of the improvement of prison conditions, the education of prisoners and their participation in social activities.