US General hails Georgia's participation in Afghan mission
By Mzia Kupunia
Wednesday, December 9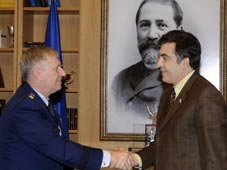 Commander of US Air Forces in Europe General Roger Brady met Georgian officials including President Mikheil Saakashvili on December 7. The President and the US General discussed Georgia's role and its soldiers' contribution to the Afghan peacekeeping mission, the President's Press Centre has reported.
Brady hailed Georgia's involvement in the Afghanistan mission. ""I have listened to Hillary Clinton's statement. I could never have imagined that Georgia, where the population is small, could be the country to have sent the biggest contingent per capita to Afghanistan," he said. US Secretary of State Hilary Clinton had emphasised Georgia's contribution to the NATO International Security Assistance Force (ISAF) mission at a press conference at NATO headquarters in Brussels on December 4. She thanked Georgia for its "extraordinary" effort in the mission. "I am not sure, but I think it is accurate to say that Georgia may be the largest per capita contributor to NATO ISAF mission. We very much stand with the people of Georgia, and we are very grateful for Georgia's contributions to this important mission in Afghanistan," she added.
President Mikheil Saakashvili stressed Georgia's "long tradition of being in Afghanistan." "Centuries ago Georgians were considered the best warriors in Afghanistan," Saakashvili said.
Later on Monday the US General met Georgian Minister of Defence Bacho Akhalaia. According to the Press Service of the Ministry the sides discussed in depth the priorities for cooperation between the two countries in 2010-2011. Akhalaia emphasised the assistance provided by the US in the development of the Georgian air force. At the meeting Brady again reiterated US support for Georgia. "Georgia is one of the closest and most reliable partners of the United States, and the incredible support demonstrated by the Georgian Armed Forces over a long period of time in Iraq, and their participation in the ISAF operation in Afghanistan, deserve the greatest appreciation," the US General said. "Partnership and friendship between the two countries makes us more powerful and effective in resolving the challenges faced by all of us," he added.
"Great significance is attached to air defence for the security of Georgia, with a particular emphasis on military-technical equipment. We welcome all the trends determined as a result of ongoing bilateral consultations," the Georgian Defence Minister said. "One of the priority issues is the professional education and training of the Georgian Armed Forces," he stated.
The 2010 Cooperation Plan in the defence sphere includes reforming the National Defence Academy and the prospective involvement of the Georgian military in US educational programmes, the Defence Ministry Press Centre has said.