Human Rights Committee discusses Ombudsman's report
By Mzia Kupunia
Friday, December 11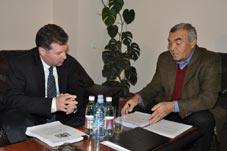 Georgia's new Public Defender, Giorgi Tughushi, presented his first human rights report to the Parliamentary Commission for Human Rights on Thursday. The report covered the first half of 2009.
In his address Tughushi criticised the law enforcement agencies and gave specific recommendations to the Ministry of Internal Affairs. He called on the Ministry to adequately react to the claims of the use of excessive force by law enforcers and take effective steps to prevent this.
Tughushi drew the attention of MPs to the "use of illegal weapons" by the police during the crackdown on opposition demonstrators at the police department building on May 6, 2009. The Ombudsman claimed that rubber and plastic bullets were used during the raid, causing "severe injuries" to the demonstrators. "Using these bullets was illegal then, because using non-lethal weapons was made legal only after the amendments of July 17," he said.
Tughushi criticised the newly amended Law on Manifestations, saying that "although the law was needed to regulate the protests and gatherings, the amendments made in July contradict the Georgian Constitution and Human Rights Charter."
The Ombudsman demanded the punishment of law enforcers who "physically assaulted" a representative of the Public Defender's office on May 6. "Despite the fact that he was wearing a special uniform, indicating that he was representing the Ombudsman's office, he was assaulted by the police anyway," Tughushi said. "Such actions contradict legislation and hinder the work of the Public Defender," he added.
Tughushi denied media suggestions that his report had been prepared during previous Ombudsman Sozar Subari's term of office. "The facts presented in the report were studied by Subari, but the document was prepared by me and my colleagues. Not a single chapter of this report was written during Subari's term," he said. "The report presented in Parliament today is the result of 24-hours a day work by me and my staff over one and a half months," he added.
Tughushi filed this report in Parliament on October 31. Lawmakers will now discuss it in plenary session by the end of December.