Saakashvili wants to be friendly with Russia
By Temuri Kiguradze
Friday, December 11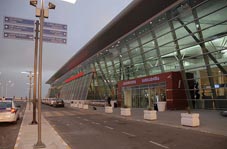 Georgian leader Mikheil Saakashvili has stated in response to Dmitry Medvedev's December 9 statement that Georgia is ready to improve relations with Russia.
Speaking on Thursday the spokesperson for Saakashvili's administration, Manana Manjgaladze, noted that the President "considers it important" to remind the Russian leader that "today Russian citizens, and I repeat citizens, not persons connected with Russian special services, can enter Georgia via a simplified visa regime. Even now, the Georgian side is ready to resume direct air transportation links and open the Kazbegi-Zemo Larsi checkpoint [on the Russian-Georgian border]."
Speaking at the European and Asian Media Forum in Moscow Russian President Medvedev had confirmed his unwillingness to conduct negotiations with the current Georgian Government, noting however that "The possibility of conducting direct flights, and opening the Upper [Zemo] Larsi checkpoint – these are normal topics for discussion and resolution. In general I cannot see any specific obstacles here, because, first of all, these issues concerns the interests of ordinary people, who have always maintained and still are maintaining ties with each other despite the severe confrontation between our states over some issues in the international arena."
The Georgian President reminded Dmitry Medvedev that all the economic and transport sanctions against Georgia had been imposed by Russia unilaterally. "Even today Russian products are widely sold in Georgia and there is no threat of an embargo against them. If Russia follows Georgia's example and removes trade limitations, the Georgian authorities will only welcome this, despite the fact that not Georgia, but Russia is the occupying state and only Georgia has the right to make claims against it," stated Manjgaladze, quoting Mikheil Saakashvili's statement.
The possibility of the normalisation of economic and transport ties with Russian has also been welcomed by another senior Georgian state official, Minister on Reintegration Issues Temur Iakobashvili. Speaking on Thursday Iakobashvili noted that he would welcome "all steps" that lead to an improvement of the situation. "The business of politicians is to help relations between states, not create obstacles to them. If flights with Russia are resumed that will be good, because children of our country live there [in Russia] and it's important for us to provide them the easiest means of transportation," said Iakobashvili. However the Minister noted that Russia "can start this normalisation by addressing any issue it wants, but this process should definitely end with the de-occupation of our territories."
Russia cut direct air flights to Georgia in October 2006 after a political scandal between the two countries; this was followed by the imposition of an economic embargo. Flights were restored for several months in 2008 and cut again after the August war. Air connection between Tbilisi and Moscow is now only possible through Armenia, Azerbaijan and Ukraine.
Independent Georgian political analyst Soso Tsiskarishvili considers that both the Russian and Georgian public should not see these statements as the start of a real normalisation of relations between Tbilisi and Moscow. "Medvedev's statement may have been prompted by the internal political struggle in Russia, as he wants to show the West that he is not as radical as Putin towards Georgia. The other thing is that The Kremlin wants to present itself as the enemy of the Georgian authorities not the Georgian people," stated the analyst, adding however that the events of last August showed that the Georgian people were the ones who suffered from Russia's actions, while the authorities "still feel comfortable in their seats."
"There will be no quick improvement of relations between Georgia and Russia while the current Governments of both countries remain in power," concluded the analyst.