First Swine Flu death in Georgia
By Londa Mindiashvili
Monday, December 14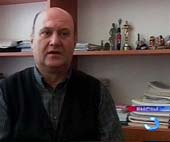 The first death from the H1N1 'swine flu' virus in Georgia has been confirmed. 27-year-old Ramaz Bezhanidze died in Batumi, Adjara Region, on 12 December. Georgian Healthcare Minister Sandro Kvitashvili announced the death of the young man at a special briefing held on Saturday.
Kvitashvili said that late treatment had caused Ramaz Bezhanidze's death. He had been taken to the resuscitation department of the Batumi Republican Hospital five days ago suffering from pneumonia in both lungs. He was connected to breathing apparatus, but unfortunately his life could not be saved.
Kvitashvili said that the condition of one of the five H1N1 patients in Kutaisi has improved. However, three are still in a critical condition at the Tbilisi Infectious Diseases Hospital. A 48-year-old man and a 55-year-old woman are breathing through artificial respiration, having developed total pneumonia. The third infected person is a pregnant woman, who is in Ghudushauri clinic. She has given birth to a healthy baby, but is connected to breathing apparatus.
Sandro Kvitashvili explained that their delayed hospitalisation is the main reason for the complications in the conditions of these patients. He called upon the population to be careful and consult clinics as soon as the first symptoms of flu present themselves in order to prevent further complications. "We are on the verge of an epidemic. I once more call on the population to consult a doctor at the first sign of the relevant symptoms and follow the doctor's advice, including taking medicine or going to hospital. We'll prevent difficult cases in this way," stated Kvitashvili.
"We have mid-level cases mainly. However, the three patients mentioned are in a critical condition. We have not yet gone over the edge of the epidemic but the situation is difficult. At this stage the most important thing is to avoid complications, and to do this people should visit the clinics in time," Deputy Director of the National Centre for Disease Control Shota Tsanava told
The Messenger
.
530 cases of laboratory confirmed H1N1 have been officially registered in Georgia as yet. However it is believed that the real number is much higher. However most infections are slight and not life-threatening.