Bagapsh re-elected, de facto CEC says
By Mzia Kupunia
Monday, December 14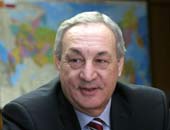 Sergey Bagapsh has been re-elected 'President' of the de facto Abkhazian Republic according to preliminary data released by the de facto Central Election Commission head, Batal Tabaghua on Sunday.
Bagapsh, who had gained 59.4 percent of the votes, was leading in all election districts, the de facto CEC head said. His main rival, former Vice-President Raul Khajimba, had received 15.4 percent of votes, Zaur Ardzinba 10.6 percent, Beslan Butba 7.9 percent and Vitaly Bganba 1.5 percent. Voter turnout on December 12 was 73.4 percent, according to Tabaghua.
Officials in Tbilisi have called the elections in Georgia's breakaway region "illegitimate". "There are two main arguments for this," MP from the ruling National Movement, Irakli Kavtaradze said. "First, Abkhazia is not a state under international law so it is impossible for elections held there to be legitimate, and secondly and most importantly, Russia is trying to legitimise its ethnic cleansing in Abkhazia through these elections," he stated.
Reintegration Minister Temur Iakobashvili reiterated the Georgian Government's position, saying that the international community does not recognise "elections" in Abkhazia as legitimate. "This was a mere farce, which cannot be legitimate, at least because Gali residents who refused to take Abkhazian passports did not participate in it," he said. "That's why we are not going to pay much attention to these elections, however at the same time we are not indifferent to what is going on in Abkhazia," Iakobashvili noted.
The Georgian Foreign Ministry called the elections "a show". "The regime which has been established by the occupier on the occupied territory of Georgia, namely Abkhazia, is putting on another show entitled "Presidential elections", in which the creature selected by Moscow long ago will be declared 'President' of the proxy regime. It is impossible to find any sort of justification for this episode in the prevalent conditions, when ethnic cleansing has taken place several times on this territory of Georgia, resulting in ? of the indigenous population being expelled and their property seized and stolen. These banished Georgians, Ukrainians, Armenians, Greeks, Azerbaijanis, Estonians and others cannot exercise their right to partake in determining the future of their homeland. Under these circumstances, holding any sort of so-called elections is not only fraudulent by nature but also constitutes an act of sacrilege," a statement released by the MFA on December 12 reads. The MFA called on the international community to "give a proper assessment to another farce conducted in one of the occupied regions of Georgia and continue steadily with its non-recognition policy with reference to these regions."
The opposition in de facto Abkhazia has claimed that the 'elections' were "totally rigged". One of the candidates, Raul Khajimba, said that observers from his team had identified a number of violations during the ballot, Ekho Moskvy has reported. Khajimba said relevant applications will be filed with the de facto Abkhazian CEC. He said the number of additional voters had been "significantly inflated" in some election precincts.
Russian Duma MPs observing the "elections" in Abkhazia have said that the voting process was held in a "peaceful and transparent" manner. "The Abkhazian Government made the right decision in letting anyone, despite their nationality, participate in the elections," Russian Duma observer Aleksey Ostrovsky said. "I have worked as an observer in many democratic states, and I can say that after one year of its de jure existence Abkhazia has managed to maximally follow the democratic norms. I would advise many Western states, including the US, to follow its example," he added.
Some analysts in Tbilisi say the 'elections' in Abkhazia have no legitimacy but some "political meaning." Independent analyst of conflicts Paata Zakareishvili has said that Russia will try and present the 'Presidential elections' in Abkhazia as "credible and just" despite the fact that an absolute majority of the international community assess the Abkhazian 'elections' as illegitimate. Nevertheless the so called elections have some "political meaning", he said.
"The Georgian Government should face this fact and take it into account, instead of laughing at the de facto authorities and calling them puppet regimes," the analyst noted. "The attitude of the Georgian Government will only trigger more separation between the Abkhaz and Georgian people," Zakareishvili told
The Messenger
.