Improved potato harvest making dreams come true
By Mariam Betlemidze
Tuesday, December 15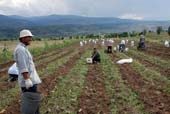 Slim 19 year-old girl Silva Nikogosian makes her way to the potato farm with yellow-white gloves in her hand. Dreaming of being a school teacher, she, like many other teenagers in this village, works hard to help her family gather a rich harvest.
This year the Nikogosian family harvested 3 thousand tonnes of potatoes, 50% more than last year, which will bring around 5,000 GEL (approx. 3000 USD) in profit. "Since CARE and CIP [the Community Investment Programme] helped us build a pumping station in Skhvilisi we have improved irrigation, and as a result the productivity of our potato fields has reached the highest level ever," says Silva's father Mkrtich Nikogosian.
In this highland village of southern Georgia, predominantly populated by ethnic Armenians, most of the fields are potato fields and there is ample land to make a decent living from potato breading. However three years ago Skhvilisians had a shortage of both irrigation for this land and sufficient agricultural knowledge to make earning their livelihood feasible.
"Before the CIP started a gravity irrigation canal and water pipe rehabilitation project, people used to wait in long queues to irrigate their fields. The waiting caused a lot of quarrels and dissatisfaction. Many could not get access to water at all, so the yields of some of the villagers suffered badly," says Roman Karapetian, Chairman of the Skhvilisi Community Organization (CBO). The project envisaged the digging of a 4.5 km long gravity canal starting at the Potskhovi river mouth and the installation of an additional 1.4 km of internal water pipe. The village itself contributed 24,800 GEL, equivalent to 55% of the total cost of the project. The village purchased pipes, hired a bulldozer and dredger and contributed with labour.
The canal serves 200 hectares of potato, onion, apple, cabbage, maize, bean, radish, sunflower and tobacco fields. The villagers noticed tangible results as early as this autumn. "If one hectare of an unirrigated field generally yielded 10 tonnes of potatoes, the irrigated land now produces 30 tonnes. Moreover, wholesalers have purchased the harvest straight from the fields," says Mkrtich Movsesian, a CIP/CARE agriculture specialist.
Up to now CIP has financed fifty-seven infrastructure rehabilitation projects through grants competition. This project also provides extension services through on-farm demonstrations and specialised training focusing on the use of new technologies in potato and vegetable production, livestock breeding and bee-keeping. "CIP has already established 100 demonstration plots. It works with 300 individual farmers, strengthens 15 producer groups to increase group production and improve its marketing, and consults and supports ten farmer service groups," says Tamara Shukakidze, CIP Director.
Silva Nikogosian is the daughter of one of the CIP producer group leaders. This year her dream is nearer to its realisation. "With this harvest my father earned enough to send me to Yerevan to study at the English Language and Literature Faculty of the State University of Armenia. Then I will come back to this village and teach children at Skhvilisi School," Silva smiles thoughtfully.