Abkhazia will never be part of Georgia, Bagapsh says
By Mzia Kupunia
Tuesday, December 15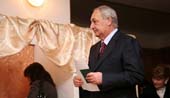 Abkhazia will never be part of Georgia, its de facto President Sergey Bagapsh said at a special press conference on Sunday after its Central Election Commission declared that according to preliminary results he had won the "Presidential" race with 59.4 percent of the vote.
"I realise perfectly well that achieving the recognition of Abkhazia as an independent state is a difficult process. We have chosen our own way, whether the EU and USA like it or not," the de facto President said. "Abkhazia will never be part of Georgia again. We will find enough friends in the world to establish relations with," the
Apsnypress
news agency quoted him as saying.
A change in the relations between Sokhumi and Tbilisi is not expected, even if the current President of Georgia is changed, Bagapsh said. "We are ready to establish international relations with Georgia on the level of two independent states," the de facto leader noted.
Bagapsh stressed the importance of the "election" in the de facto republic. "For our country this was not merely the election of the President, but choosing of the direction the Republic of Abkhazia will follow for the next five years," he said. Bagapsh briefly outlined plans for economic cooperation with Russia. "We are discussing the possibility of setting up an oil pipeline under the Black Sea from Tuapse to Sokhumi," he said.
Russian Prime Minister Vladimir Putin congratulated the de facto President over the phone on Monday, Apsnypress reported. Putin expressed his confidence about being able to carry on friendly relations with the "republic", according to the news agency.
Georgian officials expressed hope that the international community will "condemn" the so-called Presidential election in Abkhazia. "It was an illegitimate act and consequently, its results are also illegitimate," Deputy Foreign Minister, Nino Kalandadze said on Monday "We hope that the international community will maintain its position and declare the election illegitimate, condemn it and react adequately," she said.
Georgian Integration Minister Temur Iakobashvili called the "election" in Abkhazia "a farce." However, he said that Tbilisi is not indifferent towards developments in its breakaway region. "The person most convenient for Russia has maintained his position in the de facto republic, and in some way relations with him will be convenient for us as well," the Minister stated.
Meanwhile, the Abkhazian Government in-exile has reported that Russian Special Forces entered the Gali region on Monday. The head of the legitimate Abkhazian Government, Giorgi Baramia, said that about 600 Russian troops had been deployed in Gali. "They are planning to punish those residents who did not participate in the so-called Presidential election," Baramia said.