Minister pays flying visits to schools
By Salome Modebadze
Monday, December 21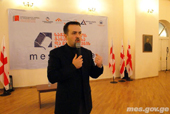 Dimitri Shashkin, the Minister of Education and Science, has so far visited about 70 towns and villages on official business. On December 19 he met directors of public schools in order to discuss their most burning issues and find appropriate solutions to problems in the education system.
Shashkin spoke about the improvement of living standards, the distribution of medical insurance and certification of teachers in schools. He explained the changes being made by the Ministry of Education and Science in order to raise literacy among schoolchildren and stressed that schools should guarantee that success could be achieved at the National Entrance Examinations without private tutorial preparation.
"I want to provide directors with full information about our activities. In 2010 a 4th obligatory subject will be added to the National Entrance Examinations, so we aim to eliminate the need for students to attend special preparatory courses. I also intend to explain the instructions given by the Ministry of Education and Science in November about how to count marks without rounding them up or down. This is a very useful method because it avoids either a decrease or increase in marks and the pupils are estimated in units. I will ask directors to give a detailed explanation of the new system to both pupils and their parents to avoid any further complication," Shashkin had said before he met the directors.