Art therapy at the Bodbe Orphanage
By Messenger Staff
Tuesday, December 22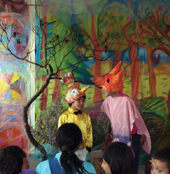 Theatre workshop with children
Dr. Hans W. Lier, a retired teacher from Germany, has held for the third time an art therapy programme for the children of an orphanage near Zemo Bodbe. The German Senior Expert Service (SES) has supported this programme. Lier engaged a team of four young Georgian artists who are artistically and psychologically educated and were trained mainly in Germany.
Last year two projects in which the children became familiar with art (painting, drawing, pottery and woodcarving) and music (playing Orff instruments) were held. This year Lier tried an even more ambitious programme with the kids: a theatre workshop from October 12 to 17. Four artists were found to deliver it who have lots of experience with traumatised children, including refugee children in Tserovani. The actor and director Gocha Gorgoshidze (who is directing "Le Visiteur" by Eric-Emmanuel Schmitt at the Rustaveli Theatre right now) practiced role play with the children (with lots of pronunciation, gesture and mime exercises). Two freelance, psychotherapeutically trained artists showed them how to make scenery and props (Goga Japaridze) and costumes and masks (Akaki Inanishvili). Misha Tabatadze, Director of the music school for children in Rustavi, formed an "orchestra" and got the children to accompany the scenes with Orff instruments.
From the very beginning the kids approached this new experience with great zeal. They were proud of being taken seriously. "It was really impressive to see how even wild and aggressive children adapted to the process and cooperated," said Lier happily. "There were almost no rivalries. It was just great to see how concentrated and enduring they were even after a couple of days." By Saturday afternoon they could self-confidently perform in front of an audience of their peers, teachers and other invited guests. Six fables were performed on stage and the loud applause which greeted these made them obviously proud of "their" theatre – an unforgettable event for them.
Lier explained the idea of this programme to the 22 teachers attached to the orphanage during a conference. The children should not only have fun this week he said. "This workshop was at the same time supposed to be efficient therapy for children who have cut themselves off due to traumatic experiences and who have not be able to develop self-confidence," said Lier. Moreover an important pedagogical element was included: children became creative and interested in learning and trying new things. "Their aggressiveness was distinctly reduced by acting," Lier said, "because the children were made to put themselves in somebody else's place and enter into dialogue with their co-actors, which is not possible without cooperation."
Lier hopes the various parts of the programme will have long-term effects and said this is why teachers must try to integrate them into their lessons and care. He offered a one-week seminar next spring with the same artists who could train the teachers in these skills. Orphanage Director Natela Kochlamazashvili supported this idea spontaneously and most of the teachers immediately agreed to take part.
Signaghi municipality leader Nodar Kochlamazashvili, Director of this orphanage himself from 1984 to 1986, thanked Dr. Lier cordially for not only carrying out these programmes but organising a lot of renovation works in the orphanage buildings since 2006 with the support of the German relief organisation HUL (Help Us to Live), especially in the dormitories and the sanitary facilities.