More new Ministers presented
By Ernest Petrosyan
Monday, December 21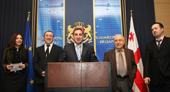 Another reshuffle has taken place in the Georgian Government. Prime Minister Nika Gilauri presented the newly appointed Minister of Penitentiary, Probation and Legal Assistance, Khatuna Kalmakhelidze, and State Minister for Diaspora Issues, Papuna Davitaia, at the State Chancellery on December 21.
Gilauri stated that until now Kalmakhelidze had been Deputy Director of the Political Department of the Ministry of Foreign Affairs but now has a more responsible role. He expressed his confidence in her ability to fill this new role. "My core goal will be the continuance of ongoing fruitful work, and my priority will be the amelioration of the conditions of prisoners as part of reintroducing them as full members of Georgian society," the new Minister said. She added that she will continue ex-Minister Shashkin's humanitarian-based work. Kalmakhelidze is a graduate of Hunter College in New York and obtained her M.A degree in International Studies at The University of Washington.
Gilauri also presented Davitaia, who replaces Iulion Gagoshidze. "Papuna Davitaia knows diaspora issues well as he was responsible for them while working as Deputy Minister of Culture and has been a member of the Diaspora Issues committee in Parliament", stated Gilauri. "There are many people who have migrated from Georgia who desire to continue their relations with Georgia, have cultural and economic relations with the country and participate in Georgia's development. Our purpose is to give those people the opportunity to satisfy their desire," stated Davitaia, who thanked Gilauri for his trust.
After working for almost a year as the first Minister of Penitentiary, Probation and Legal Assistance Dimitry Shashkin has replaced Education Minister Nika Gvaramia, who has left to study abroad. Iulion Gagoshidze, will now run the Centre for Archaeological Studies.
Political analyst Gia Khukhashvili says that the latest changes of Minister will not influence the work of their Ministries and cannot change the overall policy, which is what needs to be changed.