Bagapsh plans to visit Turkey, MPs say
By Mzia Kupunia
Tuesday, December 22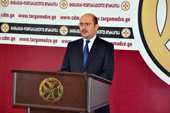 De facto Abkhazian leader Sergey Bagapsh is planning to visit Turkey, Vice Speaker of the Georgian Parliament and opposition MP Paata Daviataia said on Monday without revealing his sources. Bagapsh is planning to meet Abkhazian Diaspora representatives in Turkey according to the MP.
Davitaia called on the Government to restrict the movement of the de facto leaders. "We should do everything we can to limit the possibility of movement of the separatist leaders outside Abkhazia and South Ossetia," Davitaia said.
The Christian Democratic Party also expressed concern over the alleged future visit. Speaking at a special press conference on December 21 party member Nika Laliashvili called on the Government to take "legislative measures against the voyages of the separatist regime leaders." Laliashvili demanded the launching of a criminal case against de facto leader of Abkhazia Sergey Bagapsh and de facto President of South Ossetia Eduard Kokoity.
The secessionist Abkhazian Government is planning to make some legislative amendments, Nika Laliashvili said. "The amendments will allow the Abkhazian Diaspora living in Turkey to participate in elections," he noted. The Christian Democrats expressed hope that Turkey, as "Georgia's most important partner", will pay due attention to the statements of the de facto authorities and not give them the chance to fulfill their "provocative plans". "This would once more prove the strength and firmness of the friendship of many years between Georgia and Turkey," Laliashvili said.
Work is being done to regulate the conflicts in the country, Laliashvili noted, but the strategy for doing this remains "mere words". He stressed the necessity of "urgently" working out a specific action plan which would ensure basic conditions for maintaining the security of Georgian citizens in the territories adjacent to Georgia's occupied regions. "Some simple legislative procedures need to be adopted to stop the potential voyages of the puppet regime leaders to our partner states," Laliashvili suggested.
The Georgian Foreign Ministry will need to check the information about the alleged visit, Deputy Foreign Minister Nino Kalandadze said. "This kind of information had been spread several times before as well, but has usually turned out to be false," Kalandadze told journalists at the traditional Monday press briefing at the MFA. However she noted that the MFA will invite the Turkish Ambassador to Georgia to the Ministry. "The Ambassador will inform us of their position and we will find out what stands behind this information. We do not exclude the possibility that representatives of the separatist regions are spreading such information on purpose, while in reality it is not true," the Deputy Foreign Minister said.
The de facto Abkhazian authorities have not made any comment on the issue so far.