Another swine flu death
By Salome Modebadze
Tuesday, December 22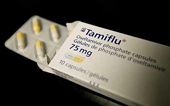 A woman died of the H1N1 virus in a hospital in Zugdidi late on December 20. The victim, a mother of two children, had been treated in the resuscitation unit for over a week but unfortunately late hospitalisation caused her death.
This was the sixth case of death from H1N1 in Georgia. Another patient, a 29 year-old man from Kakheti, was brought to hospital the next day with the same symptoms, and his condition is also serious. There are currently three infected patients in the resuscitation unit of Zugdidi hospital but doctors state that there is no reason to panic as their condition is stable at the moment.
Schools in Gali were closed on December 21 due to the increase in the number of people infected by H1N1. The region has been put in quarantine for a few days. Dalila Khorava, pro-Georgian Minister of Labour, Healthcare and Social Affairs of the Autonomous Republic of Abkhazia, expressed her worries about the rise in the number of infected. "Five people have died and 1,552 infected in the occupied territories, most of whom are children under 10. Hundreds of people from Abkhazia have gone to Zugdidi Hospital," the Minister stated. "Studies will probably continue after January 18. We are terribly worried about the people who face difficulties when they try to cross the border," added Dali Khomeriki, Minister of Education and Science.
Shota Tsanava, Deputy Director of the National Centre for Disease Control said that the situation has stabilised in the country and this is reflected in the number of infected patients in the hospitals. "The H1N1 situation has passed its peak. The only danger comes from people in high risk groups who don't approach hospitals in time. So our first appeal to the Georgian population is to visit the doctor at the very first sign of the virus to avoid further complications," Tsanava explained.
The Deputy Minister spoke of a possible rise in H1N1 infections in spring but said that this time the virus won't be so dangerous and the supply of relevant medicine the Ministry possesses will be absolutely adequate. 800 cases of H1N1 infection have been identified in the country but most have been either light or medium.