Direct flights to Russia may start again
By Ernest Petrosyan
Wednesday, December 23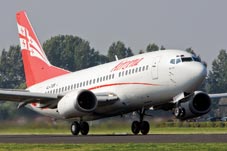 Georgian aviation company Airzena has held negotiations with the Russian Aviation Authority on the resumption of charter flights between the two countries during the Christmas and New Year holidays, from 26 December to 15 January.
"We have received an application for permission to resume flights from the Georgian side," a representative of the Russian Ministry of Transport has stated without giving dates when this application will be considered and the flights possibly resumed, the
RIA Novosti
news agency reports.
Airzena's Head of Public Relations Nino Giorgobiani stated at a briefing on 22 December that the company had decided to apply for the resumption of air links after Russian President Dmitry Medvedev said on 9 December that he did not see any obstacle to the restoration of direct flights and President of Georgia Mikheil Saakashvili replied on 10 December that he would also welcome resolution of this issue.
Giorgobiani said that Airzena had also asked the Russian Aviation Authority for the resumption of regular flights between Moscow and Tbilisi from 5 January 2009. The Russian side however has not responded yet. Airzena believes that permission to resume flights will soon be granted if the statements of the Russian Government are not just PR. Nino Giorgobiani added that Airzena made its last flight to Moscow on 8 August, 2008 and received notification from the Russian Aviation Authority on 9 August about the cessation of flights until 1 September, due to the war.
Members of the Government have said that the issue of the resumption of flights should be resolved at the level of private companies, not Government level. "This is an issue of interest to private companies and they are entitled to demand discussion of it. The Government is not addressing this matter at this stage because we do not have official communication with Moscow at present," stated Deputy Foreign Minister Nino Kalandadze. "Private companies have the licence to fly and there is an intergovernmental agreement on aviation connection, which has been suspended by Russia. We know the political reasons for them doing this but not the economic reasons. Rescinding any transport blockade is the prerogative of the Russian Government," stated State Minister for Reintegration Temur Iakobashvili.
Georgian political analyst Ramaz Sakvarelidze has told
The Messenger
that he welcomes the resumption of air links, however Georgian society should realise that this step is being made in order to provoke positive feelings toward Russia in Georgian society, to change the negative attitude here towards the Russian actions of August 2008.