No one will admit who is talking to whom
By Gvantsa Gabekhadze
Thursday, December 24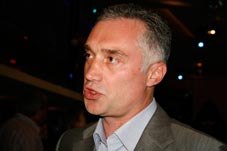 From December 21 onwards different political parties have been spreading different information about the primary election designed to identify a common opposition candidate for Tbilisi Mayor. The comments made so far are mutually contradictory or opaque.
Georgian media outlets have reported that some negotiations are taking place between the Conservative Party and the Alliance for Georgia on creating a joint list of candidates for the Mayor and Council elections. It has been said that if these two parties achieve a consensus Zviad Dzidziguri, the Conservative leader who has said he will stand for Mayor, will step down and no primary will be held. The alliance would nominate Dzidziguri for Tbilisi City Council head and fellow Conservative Kakha Kukava for Chairman of the Finance Committee of the council. However the Conservative Party has denied all this. "This is another provocation by the forces which want to stoke conflict within the opposition. In response we state that the primary will be held no matter what. A meeting is planned for December 24 at which we will announce who will be on the primary election organising committee," a spokesman said.
The Alliance for Georgia, which has nominated Irakli Alasania for Mayor and former Public Defender Sozar Subari candidature for Tbilisi Council Chair, has confirmed that negotiations with the Conservative Party are taking place but refused to say what is being discussed. However it denies that it will support Dzidziguri instead of Subari as Tbilisi Council Chair. Republican Davit Usupashvili has said, "The Alliance for Georgia has already named its candidates for the Tbilisi Mayoral and City Council elections. The Conservatives have said that Zviad Dzidziguri, will take part in the Mayoral elections, and I have not heard that this party has changed this decision," Usupashvili said.
Dzidziguri himself categorically denies that his party is holding any kind of negotiations with the Alliance. "The primary election will be held. We are not having negotiations with the Alliance; any kind of arrangement with other political forces is absolutely excluded by this party," Dzidziguri has said.
No concrete statements have been made about the primary by other non-Parliamentary or Parliamentary opposition members. Levan Gachechiladze has stated that the opposition will reach agreement on important issues and "everything will be as Georgian Citizens want it to be." MP Gia Tsagareishvili has said that, if the opposition parties do not resolve their internal problems and present a common candidate for Mayor this would be negative. "If there is no agreement they will take votes from one another," Tsagareishvili stated.
Some sources state that negotiations between the opposition parties concerning common candidates will continue after the New Year holiday.