Patarkatsishvili's lawyers accuse Kay of lying about Gibraltar judgment
By Salome Modebadze
Thursday, December 24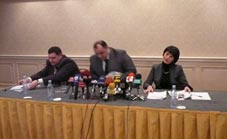 A special media briefing was held by Badri Patarkatsishvili's family at the Tbilisi Marriott on December 23 to counter statements made by Joseph Kay's representatives about the Gibraltar Court on December 18. Nona Kandiashvili, Press Spokesperson of Patarkatsishvili's family, said that the statements were a well-financed Georgian media farce. "Lots of terrible lies are being spread about Ina Gudavadze in the media lately. I wonder how people can have such an unhealthy imagination as to accuse Gudavadze of kidnapping, having connections with Alexander Ebralidze and wanting to become President," Kandiashvili stated.
Kandiashvili also talked about the press conference held by Kay's representatives concerning his alleged court 'victory' in Gibraltar, which she called an attempt to present a failure as a success and disguise the fact that the various international courts do not trust him. "If such cheap methods of deceiving society did not exist we wouldn't have bothered providing detailed information about each asset," explained the press spokesperson.
Lasha Birkaia and Koba Kvantaliani, lawyers of Patarkatsishvili's family, spoke about the decision made by Gibraltar Court. They first reminded media representatives of Joseph Kay's initial appearance just after Badri Patarkatsishvili's death, at which he tried to act as the disinterested executor of Patarkatsishvili's will and property, and the ignobility with which he has since tried to seize Badri Patarkatsishvili's assets in different countries throughout the world.
"One of these assets is a two-trust asset in Gibraltar, the object of the dispute between Ina Gudavadze and Joseph Kay at the Gibraltar Court. The court actually said that Badri Patarkatsishvili's family owned 86% of this and the other 14% would be subject to a financial investigation, but Kay claimed that the whole 100% belonged to him," stated Lasha Birkaia. The lawyers said that the position of the Gibraltar Court on the relation between Patarkatsishvili and Kay was that it was one of "employer-employee". According to the Gibraltarian judge, Joseph Kay abused Patarkatsishvili's trust in investing the businessman's money and then claiming it was his own. Joseph Kay's demand that he be recognised as the sole inheritor of Patarkatsishvili's property was absolutely rejected by the court. The source of Kay's independent investment seems to have been money appropriated from a company called Signet Deal, and the Gibraltar Court prohibited Kay from having any connection with this asset. The lawyers also stressed that a London court has also rejected Kay's claim to be the owner of Patarkatsishvili's property in England and Wales.
"After the Gibraltar court had delivered its judgment Joseph Kay asked the judge to keep it confidential. What you have heard today explains why. The court refused this request and all the relevant materials are now publicly available. We hope that the Georgian courts will also take an interest in this case and think about who the right to Badri Patarkatsishvili's property should be given to," Nona Kandiashvili concluded. Badri Patarkatsishvili's family didn't allow the media to ask any questions but provided them with passages from the Gibraltar judgment so they could familiarise themselves with the case.
The Messenger
asked Davit Darchiashvili, Chair of the European Integration Committee of the Georgian Parliament, to express an opinion about the accusations spread by the media about Ina Gudavadze's relations with Alexander Ebralidze. "Unfortunately I am not familiar with this issue but the thing I can stress is that any kind of connection with Ebralidze would be unfortunate, as this person conducts the politics of the modern Russian empire," Darchiashvili stated. However Kakha Kukava, from the Conservative Party, told us: "Even if this information is correct I can see nothing wrong in it. I am quite sure that the Ministry of Interior Affairs of Georgia has created all these rumours about relations between Georgian opposition members and Ebralidze. I know that none of them are at all acquainted with this person, but still this is said and no one can prove their innocence in Georgia.
"What's wrong with having business relations with Russia? Don't the Government bodies do business with them," Kukava concluded.