"Radisson Blu Iveria Hotel"
Monday, December 28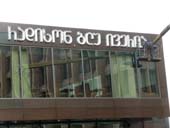 25 December, 2009
Today is the first day of our new life as Radisson Blu. It's another small, but significant, step forward in our brilliant brand history.
The exciting change of name was announced by Mr Kurt Ritter at the Grand Opening ceremony of our sensational new flagship hotel, The Radisson Blu, Zurich Airport - the first one to fly our new brand flag.
Not only will our brand name has changed today on the facade of the hotel. Above the main entrance of the hotel, especially for Georgia and Georgians sign of "Radisson Blu Iveria Hotel" has been installed in Georgian.
What exactly will the change from Radisson SAS to Radisson Blu mean to us as we go about our daily lives within the company?
The answer is: very little! It's business as usual for the great majority of us. The name change is intended to be a gentle evolutionary process: a slight, but necessary adjustment to take us into the future.
Over the past six years we have successfully re-engineered the Radisson SAS brand. With our focus on contemporary design, style culture, food and wine, we now offer guests a truly exciting lifestyle experience, in addition to providing all the functionalities at top efficiency.
Our incredible advances have been widely recognized within the industry: BDRC (Business Development Research Consultants) research has acclaimed Radisson SAS as the most improved upmarket brand for the last three years. We have also been chosen the Number 1 international hotel brand in the Nordics for seven years in a row now. The list of awards and accolades continues to grow as our portfolio grows multi-fold.
And our name change will give us another great opportunity to highlight our impressive successes; even if basically, very little will be different.
Change is exciting and re-energizing! But it's important we do not see this gentle name change as a distraction from the main business in hand... and more importantly so today than ever before. Times are hard and visibility in the future very limited. It's now the time for creative solutions to keep the share of our business and markets growing.
We must carry on thinking "outside the box" to re-invent the upper upscale hospitality experience as one of the world's most dynamic, highly individual and fast growing contemporary hotel companies.
From now on, all the best things come out of the Blu…