IDPs show they have Skills for Life
By Messenger Staff
Monday, December 28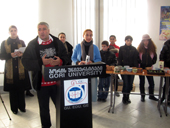 On December 22 The American Friends of Georgia (AFG) held a graduation ceremony at Gori University for participants of the Skills for Life project. Director of AFG-Georgia Lena Kiladze, Rector of Gori University Zaza Tsotniashvili, Head of the Biliki Association Mari Mgebrishvili and Director of the Women's Business Incubator Nino Elizbarashvili bestowed certificates on the graduates and said she hoped they would continue their efforts.
The Skills for Life project's principal goal was to support the economic and social reintegration of the war-affected population into the local community through education and vocational training. It provided IDPs from the villages of Ksuisi, Qurta, Achabeti, Tamarasheni, Vanati, Disevi and Eredvi (now located in Khurvaleti and Tsmindatskali Temporary Housing) with practical skills for self-sustainable and income-generating activities, mitigated the psycho-social impacts of the conflict and helped them overcome isolation. Around 200 IDP children, young people and adults were rehabilitated and retrained in business administration, gardening and landscaping, construction and nursing science, English language and computer skills, cloisonne making and pottery, hairdressing, cosmetology and massage. AFG's Partners in this project were Gori University /Higher Professional Educational Programmes, The Biliki Association, the Women's Business Incubator, the George Pachkoria ceramic studio, VEP Georgia, the Institute of Decorative Gardening and Ecology, and the Nursing School of the Convent of the Transfiguration. The project was sponsored by the US Embassy Democracy Commission and partially funded by the AFG US office and the Rapidan Foundation.
At the ceremony project participants demonstrated what they had learned and displayed examples of the work, from enamels to a puppet show. All expressed thanks to AFG for the project.