IDPs resettled without being told, they say
By Salome Modebadze
Monday, December 28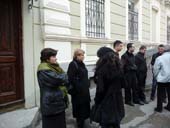 A group of IDPs was due to be resettled from the former Ministry of Energy building on December 27, according to the Ministry of Refugees and Accommodation. However the IDPs claim they were not told that they were going to be resettled, although two specially-appointed buses were standing in front of the building waiting for them.
Shalva Kelbakiani, representative of Ministry of Refugees and Accommodation, explained that the IDPs had been informed about the resettlement beforehand, saying that "There are about 43 facilities with free space where all these people will be placed for the winter." However the IDPs told The Messenger a different story. "We have been here since August 2008, but people from the Ministry of Refugees and Accommodation came here yesterday and announced that we should leave the building," commented a refugee from Didi Liakhvi Gorge, Tskhinvali region, who refused to identify himself to avoid further complications.
"People from the local Municipality came here a few days ago saying they were doing a simple survey, but today the Ministry of Refugees and Accommodation said we should just leave. We didn't know they were going to resettle us until now. We just wondered what all those buses were for," complained Lia Khetaguri, IDP from Tamarasheni.
"It's unfortunate that our Government doesn't try to encourage and support us. It's only been a week since we got IDP status, though we've been living here since August 2008. Archil Gegenava, the MP for the Mtatsminda District, used to provide us with particular items and we have also received some social grants from international organisations, but our standards of living are so low that all 32 IDP families here live on pensions. The children go to the nearest schools but unemployment is essentially harmful. I wish I could live in our burnt-out house in Tamarasheni again, but how can I ask either the Ossetian or Russian Government to take me there?" asked Khetaguri in tears.
Jondi Baghaturia, the leader of Georgian Troupe who led negotiations on this issue with the Ministry of Refugees and Accommodation, called the resettlement plain impudence. "The Government has started throwing out these poor families just like Kokoity and Ardzinba. The resettlement must be connected with the sale of the building," Baghaturia told us. "I spoke to Koba Subeliani, the Minister of Refugees and Accommodation, and we agreed that no one should harm these people, and IDPs would only be removed to make a survey. They would not be forced to leave their old lodgings if they don't like new ones offered, we agreed. This is a promise given by the Minister and it can't be broken," Baghaturia concluded.
The Press Centre of the Ministry of Refugees and Accommodation states that IDPs will be offered places in 5 residences: Mitskievichi 29, Chubinashvili 27, Kerchi 3, Chargali 67 and Guramishvili 17. "Resettlement is a multi-phase process which began quite a long time ago and means moving from one place to another. No one will be left in the street; everyone will now have private living space," Eka Gulua, Head of the Press Centre, told
The Messenger
. She further explained that the process of resettlement will be concluded when all the IDP families are settled in new places but she couldn't give any specific answer about what would happen to the former Ministry of Energy building.