Kaladze brings joy to children's shelter
By Etuna Tsotniashvili
Tuesday, December 29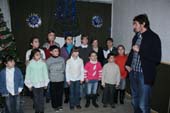 On December 25 Kakha Kaladze, the AC Milan central defender who is captain of the Georgian national football team, handed out New Year gifts at the Tskneti children's shelter. On behalf of his charity, the Kala Foundation, he congratulated the children on the coming New Year and Christmas and wished them success, health and happiness.
The children were very happy to meet Kaladze and it became clear that most of the boys are fans of AC Milan because Kakha plays for them. They held a specially-prepared concert of dance, song and poetry in honour of Kaladze and his wife, who accompanied him.
Kaladze promised the boys that his foundation will help any of them who show ability at football and highlighted that football is the most popular sport in the world and Georgia really needs more skilled and professional players. 11 year-old Beka Mikhanashvili adores football and dreams of becoming a popular footballer. He is a fan of Milan and Barcelona; but supports Georgia at international level. Due to poor conditions at home, Beka started living in the Tskneti children's shelter when he was 9. His family lives in Tbilisi and visits him often, but he dreams of going home and staying there. "My parents will come and take me home for New Year, I am very happy," Beka said.
10-year old Laliko is an excellent dancer and says that she is very fond of Georgian national dances. Laliko was very happy with her New Year sweets and chocolates. "I am very happy that Kakha came here and gave us chocolate. I want to thank him and wish him a happy New Year," Laliko said, adding that she is looking forward to New Year because her mother will take her home to greet the coming year with her family.
Kaladze said that this is the first time his foundation has helped the Tskneti Shelter, however further projects of this sort are being devised. "The Kala Foundation will continue to help children, but unfortunately there are so many children's shelters that it is impossible to help all of them. There are lots of acute problems and I will try to make a small contribution to making them happy," Kaladze told
The Messenger
, adding that they will try to support children in the sports field in particular.
The best part of the day for the children was when Kaladze played football with them at the newly-opened sports stadium at the shelter. "I am very happy that I have played with Kaladze, he is very good footballer and I hope he comes here more often," 10-year old Beka Akopashvili said.
Kakha Kaladze created the Kala Foundation in 2008. It generally finances social programmes and sports and education projects.