Russian Transport Ministry sends another letter to Georgian air officials
By Mzia Kupunia
Monday, December 28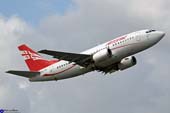 The Russian Transport Ministry has sent a repeat request to the Georgian Transport Administration to provide security for flights, the Russian Ministry's press service reported on Monday. The Transport Ministry also asked whether Georgian company Airzena has permission from the Transport Administration to conduct direct flights to Russia.
"We have sent a repeat request to the Georgian authorities because we did not receive an answer to the first one," a Russian Transport Ministry representative said, according to RIA Novosti.
Georgian air company Georgian Airways filed a request to the Russian air authorities on December 22 to allow it to conduct daily direct flights between Tbilisi and Moscow during the New Year holidays from December 26 to January 15. Georgian Airways also requested permission to resume making regular direct flights from January 5. "If the statements of the Russian officials about the possibility of resuming direct flights are not yet another PR stunt, flights might soon be resumed," the head of the Press Service of Georgian Airways, Nino Giorgobiani, said at a special press conference.
Head of the Georgian Transport Administration Giorgi Bokuchava said that the administration had received a letter from the Russian Transport Ministry via fax last week. "We sent the letter to the Georgian Foreign Ministry because the two countries have cut all diplomatic relations and we want to make sure whether the letter can be considered official or not," Bokuchava told The Messenger. "We received the analogous letter today as well. We are just waiting for the Foreign Ministry to give us instructions on what action we can take," he said.
Bokuchava said that Georgian Airways has all the necessary permissions to carry out flights to Russia. "The permissions which Georgian Airways had before flights were stopped after the August war are still in force. Georgian Airways has permission to be the air carrier between Tbilisi, Moscow and St. Petersburg," he noted.
The Georgian Airways request followed a statement by Russian President Dmitry Medvedev on December 9 that there was a possibility of resuming direct flights between the two countries. Georgian President Mikheil Saakashvili welcomed the possible lifting of air transport restrictions. "The Georgian side expresses its readiness to resume direct flights with Russia," the President's Press Speaker, Manana Manjgaladze, said on December 10.
Russia cut direct flights with Georgia in October 2006 after the relations between the two countries deteriorated due to a spy row. In 2008 flights were restored for several months but were cut again after the August conflict.