Georgia, the land of two Santas
By Salome Modebadze
Thursday, December 31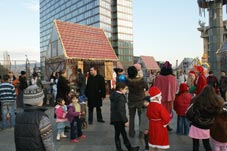 The Georgian Santa Claus, loaded with plenty of presents, came to Tbilisi on a sledge drawn by singing reindeer from Ialbuzi Mountain on December 29. "This year should be peaceful for everyone but especially children. They need peace, protection and love," he stated at Rose Revolution Square.
Father Frost surveyed the New Year Village there and gave out presents. Bombora, the host of Mtastminda Park, took the responsibility of driving the sledge to show the children that Father Frost had also arrived in the capital. Their final destination was a special castle at Mtatsminda Park where the Georgian Santa was greeted by dozens of children waiting to tell him their New Year wishes. "I'll ask Santa to bring me a Barbie house," said seven-year-old Lile. "And I want a book of New Year stories," added eleven-year-old Mari.
All the children and Santa joined in a specially arranged concert at which Georgian singers wished everyone Merry Christmas and a Happy New Year. Mamuka Akhvlediani, the Vice-Mayor of Tbilisi, invited all citizens to attend the events arranged for New Year. "All the events at Mtatsminda Park have been organised so that children and their families can have an unforgettable party with the Georgian and Lapland Santa Clauses," he stated.
Mtatsminda Park has very serious plans for 2010. Lots of games, sideshows and concerts have already been organised, People visit the place from early morning with small children and even grandparents. Smiling faces and good wishes are seen and heard everywhere. 21-year-old Maia, from the park staff, expressed her pleasure at the fuss being made about the party and wished everyone a happy, successful and joyful New Year. "I think you have the best country in the whole world and I wish there to be no war in Georgia anymore," commented Christian, a guest from Switzerland who had come to Tbilisi to christen his small children. "We have a very festive mood and we would like to see all the places of interest in the Park," Nato, his Georgian wife added.
The Messenger
was unable to find the Georgian Santa Claus in the whole of Mtatsminda Park on December 30, so we went to the very top of the park to find out what was wrong. "The Georgian Santa arrived on December 29 from the high mountains but he is away distributing presents to orphans in different regions. He'll be back in Tbilisi on January 2. Santa Claus from Lapland will come to Georgia on December 31 and join in the New Year party at Freedom Square. He will then come to Mtatsminda Park with his elves on January First and receive the children. He will ask them how they behaved the previous year and get wishes for the next New Year from them. Then both Santas, along with the elves and Bombora, will take up residence in a special castle. They will receive any visitor and give them presents with pleasure," Shorena Tskhovrebashvili, PR Manager of Mtatsminda Park, told us.
"A wonderful programme has been arranged at Mtatsminda Park from January 2 to January 14. It will start at 15:30 and last an hour and a half. It includes a huge variety of events, dedicated not only to children but their families. Zura Vadachkoria's Magic Club, Puppet Theatre shows, concerts of young musicians, a special lottery and many other things are all included in the ticket price. Each ticket contains a special present and also gives the bearer the opportunity to try each sideshow once for free. The party will end with an unforgettable firework display. We advise you not to miss this event. Tickets cost GEL 15 and are sold in the park," she added.
We asked Shorena about her personal wishes for the New Year. "I have lots of wishes for sure, but first of all I wish everyone peace, health and joy. I would like to see more smiling faces," she answered.