Contrasting New Year messages from President and Patriarch
By Salome Modebadze
Monday, January 4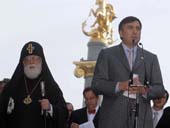 President Mikheil Saakashvili summarised the past year in a televised address from Batumi on December 31, stressing the burning issues of the year and all the great challenges Georgia had faced in 2009.
The fallout from the global economic crisis, the months of political instability and the occupation of Abkhazia and South Ossetia by Russia were the main issues the President touched on. "All these should have had a fatal impact but Georgia survived. Georgia continues to develop and I want to thank each of you for that," Saakashvili said. "The secret recipe for our survival is very simple: our strength is in our unity, in the unity of all ethnic groups and all the citizens of Georgia, regardless of their origins and religious beliefs," the President added.
The President encouraged Georgians to continue building the country with one hand and holding a weapon in the other to protect it. "In one hand we should be holding a hoe, a computer, a book or another tool required for building a modern country, but in the other we should always be ready to struggle and protect our country, its future and everything we are building," he stated.
"We have had the chance to see our enemy's mad and confused face on our TV screens. He cannot understand why it proved impossible to make Georgia bow down before him despite all his tricks and provocations. He fails to understand that although it is possible to make an individual Georgian submit it is impossible to ever make the whole Georgian people do so," Saakashvili concluded.
At a public walkabout in Batumi on January 2 the President said that the New Year Party in Batumi was one of the best such events in the whole world. The party, which lasted from December 31 to January 2 and featured local and international opera singers cost GEL 2 million to put on, but visitors brought about GEL 20 million to the economy of Adjara in cafes and restaurants during that time, he said. Saakashvili also announced there will be more hotels, cafes and restaurants in Adjara in future and expressed a readiness to hosting more than a million tourists next time if all the preparatory works are undertaken in time.
In an annual New Year sermon Catholicos-Patriarch of All Georgia Ilia the Second wished happiness to the Georgian nation and spoke about the meaning of real happiness. "Happy is a man who has faith, hope and love. We should all know that God's grace is the main way to happiness. When we talk about faith, we mean the faith taught by the Orthodox Church. First of all we should approach God and God will approach us. I wish our whole nation happiness," explained His Holiness and Beatitude.
"Today each of us should think about his present, past and future. Georgia is facing serious difficulties but the Georgian nation is strong and we will do everything to overcome all the difficulties. I would like to express my special tenderness towards the Abkhazian population. I also bless our Ossetian brothers. I hope we will still be together and the whole of Georgia will be happy. We should learn how to listen to each other and maintain unanimity, especially nowadays when Georgia faces so many difficulties. I wish you joy, happiness and peace for this New Year.
"God's grace will be with us if we stay close to Him. May God bless you all and unite the whole of Georgia," His Holiness and Beatitude concluded.