US Senators question France about warship
By Messenger Staff
Wednesday, January 6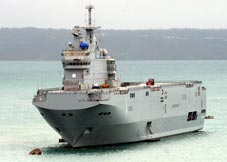 It was recently reported that Russia intends to purchase a large warship, the Mistral, from France. Though the ship can be used for non-aggressive purposes, the Russian military expressed their admiration for it by saying that if they had had this ship during the August 2008 invasion of Georgia they would have taken only 40 minutes rather than 26 hours to conduct this operation.
In response to widespread international concern about Russia acquiring such a vessel while it is conducting a nakedly aggressive policy towards several states, a group of US Senators has sent a letter to the French Ambassador to the US and received a reply.
The Senators state that the sale of the Mistral would be the most significant military sale ever between a NATO member state and Russia and would have significant implications for all NATO members. They say that the Mistral would greatly enhance Russia's power projection capabilities and its stated intention to deploy the ship in waters adjoining NATO members has led to many understandable concerns. They point out that Russia is not in compliance with, and has suspended participation in, the Adapted Conventional Forces in Europe Treaty, has not honoured its 1999 Istanbul Commitments to withdraw from Georgian and Moldovan territory, and is violating the Russian-Georgian ceasefire agreement negotiated by France. They also cite a number of agreements which they say would be breached by the sale, such as the Wassenaar Arrangement on Export Controls for Conventional Arms and Dual Use Goods and Technologies and the European Union's Code of Conduct for Arms Sales.
The Senators praise France's participation in NATO, its contributions to global peace and security and the leadership it has demonstrated in dealing with the Iranian nuclear weapons programme. They state that precisely because they value France's role internationally they believe that the US and French Governments should work together to examine the implications of the sale of inherently destabilising heavy military equipment to Russia, saying that this sends Russia the message that France acquiesces to its increasingly bellicose and lawless behaviour.
French Ambassador to the US Pierre Vimont says in reply that the Senators' concerns are legitimate and he is happy to engage in discussion about them. He points out that the key role played by French President Sarkozy in the Georgian crisis in summer 2008 is an example of his country's commitment to international peace and security and French men and women are still there on the ground as part of a European effort to maintain the peace agreement, France having every interest in avoiding a new conflict on Europe's doorstep. He adds that France has been keen to consult its partners, notably Georgia, before making any move regarding the sale and that it has acted in full transparency. However he states that both France and the United States recognise that they have to engage Russia constructively to anchor it in a mutually beneficial partnership and intensify its cooperation with Europe and NATO, and this mindset is shared by the Administration and many in Congress. This concrete cooperation will contribute to rebuilding an atmosphere of trust absolutely necessary for the improvement of European security, the Ambassador says.
The Ambassador says that in this context France has no reason to refuse to consider a Russian request which is being examined, and will be concluded, with all the necessary precautions as part of the French military equipment export control regulatory procedures. He adds that a Mistral-class ship has been used for humanitarian or evacuation missions due to its transport and medical capabilities. It does not have any particularly advanced technological elements and French authorities are taking all the necessary steps to ensure that any sensitive equipment is not exported. Therefore, he says, the Russian request is not a credible threat to the North Atlantic Alliance. The Ambassador concludes that he is always ready to discuss this issue and will meet the Senators to discuss it if asked.