De facto authorities will stop people crossing the 'borders', Tbilisi says
By Mzia Kupunia
Friday, January 8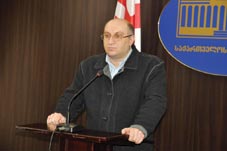 The de facto South Ossetian authorities are planning to restrict people's ability to cross the administrative border, Georgian officials reported on January 6. At a special briefing Vice Speaker of Parliament Paata Davitaia said that de facto South Ossetian officials have decided to prevent residents of Akhalgori entering the region with Georgian passports. "The residents of Akhalgori who do not have Russian or so-called South Ossetian passports will not be allowed to cross the administrative border starting from January 10," he said.
The de facto Abkhazian authorities are also planning to prevent Georgians crossing the administrative border with that region from February 1, according to Davitaia. Special fingerprint reading equipment will be installed at the Enguri checkpoint, he told journalists. "The Abkhazian separatists are planning to restrict administrative border crossing at a legislative level and adopt a special law on this issue in their so-called Parliament," Davitaia noted. The Georgian side will raise this issue at the winter session of the Council of Europe, he said.
De facto South Ossetian officials denied the claims of the Georgian side. "There is no restriction on Georgian passport holders. Residents will simply need notarially approved translations of their passports when crossing the border," the de facto head of the administration of the Akhalgori region, Alan Jusoev, has told the
Interfax
news agency. The translation of Georgian IDs is necessary for creating a database of residents of the region, he said, adding that it would also make the work of "border guards" who do not speak Georgian easier.
Georgian MPs have downplayed the significance of the alleged intention to install fingerprint identifying equipment at the administrative border. "The secessionist officials had this idea before, however due to financial problems and the pressure from the international community, they were unable to do this," head of the Temporary Parliamentary Commission on Territorial Integrity Issues Shota Malashkhia said.
Parliament Speaker Davit Bakradze called on the international community to react to the issue, calling the de facto authorities' plans a "violation of basic human rights." "We will react to this with the international community. We will try to raise this issue, which is yet another manifestation of the Russian policy of complete assimilation of the region, with all international organisations," Bakradze stated.