CEC Chair contest goes down to the wire
By Gvantsa Gabekhadze
Monday, January 11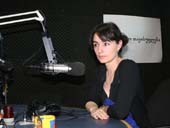 A meeting of NGOs and members of the President's administration concerning the election of a new Chair of the Central Election Commission (CEC) was held on January 10 at the President's palace, but only technical issues were discussed as the President was absent. 11 NGO's agreed a common candidate for this post, Eka Siradze, Executive Secretary of the International Society for Fair Elections and Democracy (ISFED), and lawyer Kakha Sopromadze's candidacy was also presented. Outgoing Chairman of the CEC Levan Tarkhnishvili was also reported to be a candidate.
NGO representatives said that Eka Siradze is a neutral person with significant experience of organising elections. She herself stated that she initially refused to be nominated but after receiving the trust of so many NGOs she agreed to stand. Siradze said that serious reforms are needed in the CEC. "The period until the local elections is not enough in which to carry out fundamental changes. The most important thing we should do at the present moment is to ensure that the Commission's activities are transparent," Siradze stated.
Kakha Sopromadze confirmed his candidacy, but Tarkhnishvili did not do so prior to the meeting, though sources stated that he intended to stand. Furthermore it was not ruled out that Zurab Chiaberashvili, the current Georgian Ambassador to the Council of Europe, could also be a possible candidate. It was not known before the meeting whether other possible candidates were being discussed.
Under amendments to the election code passed by Parliament in December the President will nominate three candidates for the post of CEC Chair after consultations with civil society organisations. Opposition members of the CEC will select one of these three candidates as Chair. However they must do so no later than January 11, and if they fail to do so Parliament is obliged to elect one of the three candidates within seven days.
The President's Press Service reported on January 10 that 41 applications had been made for the three vacancies on the CEC itself. Former member of the CEC Gizo Mchedlidze is among the applicants. The Commission organising the contest for these vacancies must present at least 2, and at most 3, candidates for each vacant post to the President of Georgia no later than 11 January. The President will then choose between them and present 2 candidates for each vacant post to Parliament the following day.
The Parliament of Georgia must elect the new CEC members within 7 days after the candidates are presented. An extraordinary sitting of Parliament which will do this is scheduled for January 15.