Students strut their stuff in National Olympiad
By Londa Mindiashvili
Monday, January 11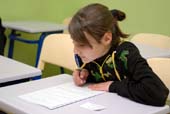 The National School Olympiad 2010 began on January 9 with a test on Georgian Literature. Minister of Education Dimitri Shashkin and Director of the National Centre of Examinations Maia Miminoshvili observed the process at Tbilisi Public School 98.
The Minister expressed his content at the fact that ten blind pupils were participating in the Olympiad. "The most important thing is that every child, regardless of their physical abilities, can take part in the Olympiad. We welcome the idea that blind pupils have a chance to participate in these competitions. Inclusive education is a priority of our Ministry," said Shashkin.
Around 174,000 school students are participating in the National School Olympiad 2010. 173,657 applications were received by the National Centre of Examinations from the regions of Georgia and about 10,000 non- Georgian speakers also registered. The aim of the National School Olympiad is to promote school reform, stimulate school life, encourage schoolchildren and teachers and identify the most talented pupils, who will take part in international Olympiads.
"There is really very high pupil interest this year, more than in 2009, though we can't say that we have 100 percent attendance. As for the tests, this is only a selection round and it is very easy as it only tests knowledge of material in the school curriculum. The second and third levels will be more difficult of course. At the end we will reveal the ten best pupils in each subject. The best three will receive first, second and third prizes, though these will not be money prizes. The best pupils will take part in international Olympiads. The tests will be checked by teachers chosen specially for the Olympiad. The results will be known at the end of February," Miminoshvili told
The Messenger
.
The participants of the National Olympiad think that the tests are not difficult. "There are really easy tests this year. I think I will go through to the second round. I hope so anyway," said Tinatin Kapanadze. "I have done tests in Georgian language and literature and maths and they were not difficult. I would say they were appropriate for our level of knowledge. If you know what you should know you will do the test easily," said Lika Jincharadze.
The National School Olympiad has been held since 2009 on the initiative of the Ministry of Education. Students from public schools in Georgia's various regions test their knowledge in different subjects: Georgian language and literature, Mathematics, History, Geography, Physics, Biology and Information Technology. For the first time this year the National Olympiad is being held in the Georgian, Russian and Azeri languages.