Energy summit becomes energy conference
By Mzia Kupunia
Friday, January 15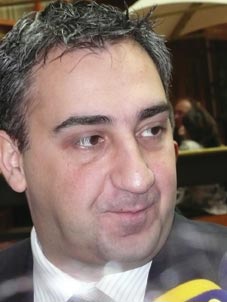 Batumi hosted an International Energy Conference on January 14 instead of the previously announced International Energy Summit. The status of this event was changed the day before it opened, when it became known that the Presidents of Azerbaijan, Poland and Ukraine, who had been expected to attend, would not be doing so.
The Georgian Ministry of Foreign Affairs said that President Viktor Yushchenko of Ukraine would not be attending because he is tied up with his Presidential campaign. "As it was of crucial importance that the President of Ukraine took part in the summit, it was decided to postpone it until Yushchenko and other leaders are able to come to Georgia," Deputy Head of the Public Relations Department of the Foreign Ministry Irakli Vekua said. "The exact date of the future summit is not yet known," he told
The Messenger
.
Deputy Foreign Minister Davit Jalaghania also confirmed that the postponed Energy Summit will take place at some future date. "Today's conference can be considered a preparatory event for the upcoming summit," he said.
Representatives of Ukraine, Poland, Turkmenistan, Turkey, Romania, Bulgaria, Hungary, Azerbaijan, Kazakhstan, the EU and the US participated in the conference. They discussed issues related to energy security and the development of the Southern Corridor project, which will supply European countries with oil and gas from the Caspian region through Azerbaijan, Georgia and the Black Sea. Georgian Prime Minister Nika Gilauri, who opened the conference, said that a new project which will involve transporting gas through the Black Sea from Georgia to Romania, Bulgaria and Ukraine would also be discussed. "The new project will be outlined in the official documents adopted at the conference as well," Gilauri told journalists, "and later work on additional projects about transporting liquid gas to Europe from Georgia will start," he added.
Gilauri stressed the importance of the participation of Turkmenistan and Kazakhstan in the conference. "One of the most important partners for Georgia in energy projects is Azerbaijan, and Azerbaijan will be supplying gas for the new project to begin with, however in the longer term the involvement of Turkmenistan and Kazakhstan will be crucial because the gas resources of these two countries are very important for Europe," he said.
"The new international transit projects in the region have proved that Georgia is a reliable partner and demonstrated the regions transit capabilities," Georgian Energy Minister Alexander Khetaguri said. "Consequently the European Union's interest in the region has increased. The indication of this is its support for the Southern Corridor initiative. Several high level energy summits were devoted to this issue last year," the Minister said.