Security Police try to make the future brighter
By Salome Modebadze
Friday, January 15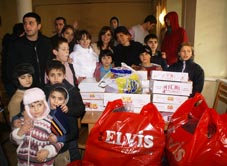 The Security Police Department of Georgia visited the House of the Future for homeless children at 13 Tsurtsumia Street on January 14. The Security Police expressed their support for the institution and encouraged the children. They wished them a Happy New Year and distributed presents.
"We decided to conduct a charity action called 'Let's Spend Winter Warm and Safe with the Security Police ' to wish the children all the best for the New Year. There are about 60 children in the House of the Future and we bought warm jackets, other necessary items and sweets to make them joyful. This is out first such action but we definitely plan to support similar institutions in future," Anna Arzanova, Head of the PR Centre of the Security Police told
The Messenger
. "We are really glad to be here today and have an opportunity to at least bring joy to all those children with our presents. We are glad to enter their lives even for just a little while and make them happy. I wish the House of the Future all the best in 2010. They will have attention and support from all of us in the future," she added.
"I want to wish the whole media a Happy New Year. As the President of the Women's Congress NGO and one of the founders of the House of the Future I realise the responsibility the media takes in highlighting such events and drawing the attention of society to homeless children. I want to personally thank the Security Police for their kindness in supporting homeless children. Everyone enjoys presents, but especially these children, who have seen everything in life but don't give up," Lia Kiknadze told
The Messenger
.
Messenger
staff visited the wonderful workshop where the children make handmade accessories from different items. We were very much attracted to their motto From Nothing to the Top and asked the children their New Year wishes. "I am really glad that the Security Police have brought us lots of sweets but I wished I had a doll with its pram. I will write to Santa Claus for next year, maybe he will send it to me," 6-year-old Taki Saakashvili admitted. "I wanted a phone this New Year and my father bought it to me. I don't carry it around here as I don't want to lose it. The House of the Future is like a second home to me and my sister. We have a school here and we also make acessories in our free time," 11-year-old Viktoria and 9-year-old Olia Chkhaidzes told us.
Maia Gegenava, Director of the House of the Future, told
The Messenger
: "We have exactly 57 children of different ages here, among whom some have some social problems and need social care and others are either homeless or orphans. I must confess we don't very often have such support from outside organisations. They mainly become interested with us at festive periods such as Christmas, New Year, etc. But we also arrange events and invite them to visit us.
"I would like to thank all the organisations which have ever encouraged us in any way. Our institution has to raise its own funds, so any kind of support is crucial for us. These children are neither hungry nor thirsty. We all live as a family and need the things necessary in each family. Our children have at least the fundamentals they need for living but presents are always a joy," said Maia Gegenava, who wished the whole of Georgia a happy 2010.