New allegations in Ukraine about Georgian election observers
By Gvantsa Gabekhadze
Thursday, January 21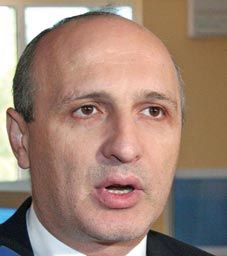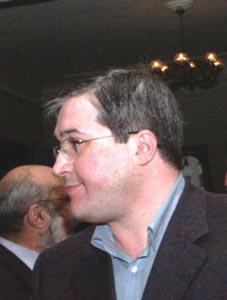 The scandal of the treatment of the Georgian observers of the Ukrainian elections just won't go away. Vladimir Sivkovich, a Ukrainian Parliament Deputy from Viktor Yanukovich's Party of the Regions stated on January 19 that he has a recording of a phone conversation between Interior Minister of Georgia Vano Merabishvili and Georgian MP Givi Targamadze and also one between Targamadze and a certain Konstantine, which he says betrays the "real mission" of the Georgian observers.
Sivkovich stated that he made the audio recording by extracting it from the public lines, though these recordings are also made by the Security Service of Ukraine and Prosecutor General's Office. In it Merabishvili tells Givi Targamadze, "Call Yulia and the others. How can I bring a thousand people? Tell them to prepare planes for the second round, as Ukrainian flights won't be suspended. I want to send 200-300 people and it is difficult to do this with our planes". Based on this the Deputy alleged that Georgian officials planned to disrupt the Presidential election. "It is absolutely unacceptable that one of the candidates, Yulia Tymoshenko, contacts and negotiates with the Georgian President in secret to bring soldiers instead of observers into Ukraine for the elections," Sivkovich stated. He added that more than 1,000 men had arrived from Georgia as observers for the first round of the elections who did not present the relevant forms on which their places of work and professions would be indicated. "We, with our own resources, have discovered that more than 360 of the people who arrived here were employees of Government institutions in Georgia, nearly 300 were soldiers and the others sportsmen," Sivkovich suggested.
He offered other Deputies the chance to listen to the recordings but they have refused to do so.
On January 20, the day after Sivkovich's statement, the Ukrainian media broadcast a recording of a phone conversation containing additional information, i.e. that Targamadze already has 400 men in Donetsk and Merabishvili is to send an additional 300 for the second round. Into the Russian translation of the call which was broadcast Merabishvili wants to send more people but by can't do so on Georgian planes, which is why Tymoshenko's assistance is needed. The Minister notes that a plane full of passengers has been waiting at Tbilisi airport for 2 hours and cannot take off. Merabishvili tells Targamadze to find our whether General Director of Airzena Tamaz Gaiashvili is concealing something. Targamadze says he will. "Tell Yulia that if our planes are not able to fly (to Ukraine), maybe she could send hers, people are in the airport and they cannot fly," Merabishvili says.
In response Targamadze stated that the Georgian side has indeed already sent 300 observers to Donetsk to observe the election and everyone knows this. "Sobriety prevailed and the other Deputies didn't listen to this recording. I use my mobile a lot and if anybody is interested in listening in to my personal conversations, let them. I think Ukraine needs to concentrate on much more important things than wasting time listening to my phone conversations," Targamadze stated, adding that the present Ukrainian elections have great importance and Ukraine should continue its democratic development.
Also on January 20 Alliance for Georgia leader Irakli Alasania said that by creating such scandals about observers the Georgian Government has created a serious danger for the two countries' relations. "If Georgian-Ukrainian relations become strained after the elections only the Georgian Government will be responsible for this," Alasania suggested. Tymoshenko has not yet commented on the recordings.