Ministers hold meetings in Iran and Egypt
By Salome Modebadze
Thursday, January 21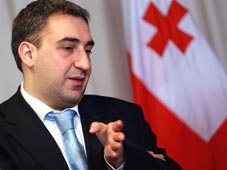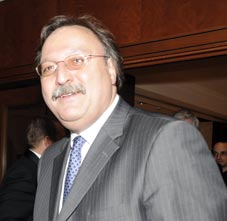 Georgian Foreign Minister Grigol Vashadze paid a one-day working visit to Iran on January 18, during which he gave a joint news conference with his Iranian counterpart Manouchehr Mottaki.
"The issue of confidence building is of prime importance, and should be taken into consideration in talks between Iran and the international community," Vashadze said. The Foreign Minister also commented on the arrest and subsequent extradition of an Iranian man to the United States. "I hope this case will not affect our friendly relations with Iran, which are of special importance for Georgia," Vashadze stated. He also said that Iran and Georgia should pay more attention to trade relations between the two countries. Mottaki said that Tehran is interested in cooperating with Georgia in the energy sector and is ready to purchase electricity from Georgia if needed.
Vashadze was later hosted by President of Iran Mahmud Ahmadinejad, who said that Iran is interested in improving relations with Tbilisi. "The regional problems and crises can be solved based on regional countries' interaction and cooperation. They must expand dimensions of bilateral, multilateral and regional cooperation and block the intervention of the aliens," Ahmadinejad stated, saying NATO's expansion eastward was a threat to regional countries. "NATO is ready to use the prestige of all regional countries to serve its own interests, thus these countries should strengthen their relations in order to prevent outside interference," Ahmadinejad said. "Iran and Georgia have enjoyed friendly relations for ages and we are interested in improving relations with each other. The two countries can set the foundations for strong cooperation based on constant consultations," the Iranian President added. Vashadze stated that Georgia will never act against Iran, no matter which alliance or organisation it joins.
Georgian Prime Minister Nika Gilauri also left on an official visit to Egypt on January 19 with a Government delegation. This visit will last three days. Gilauri met Ahmed Nazif, Prime Minister of Egypt, on the first day of his visit. Negotiations were held behind closed doors. The two PMs spoke about economic projects and conditions for investment. "This is the first official visit to Egypt of a Georgian delegation. Our countries have great potential to cooperate with each other. We discussed transit opportunities and conditions and defined the fields of our common interest," Ahmed Nazif stated.
"All the projects that we discussed are very interesting. We may start exporting Georgian wine and Borjomi mineral water to Egypt, especially to the resorts which are so popular with tourists from Eastern Europe and the former Soviet Union," Gilauri told the media. "We talked about electricity and the Egyptians became deeply interested in building a hydropower plant. We also touched on the issue of the transit route connecting Egypt with Central Asia," the Georgian PM added.
At a business forum Gilauri also spoke about the investment potential of Georgia and outlined the reforms in the tax sector of the country. Egyptian businessmen said that the Georgian PM had made a very interesting presentation. Bank of Cairo, which is among the leading banks in Egypt, said it will cooperate with banks in Georgia and encourage import-export operations. The businessmen also expressed interest in the agriculture and pharmacy markets. A mutual memorandum was signed between the Chambers of Trade of the two countries and the Georgian delegation also viewed Egypt's industrial zones.
A specific project offered by the Georgian delegation at the forum was using Georgian territory for wheat transit from Kazakhstan. The infrastructure of the Georgian ports will also be developed to create new jobs. "We signed a resolution on establishing a joint business chamber which will help the Georgian and Egyptian business sectors launch relevant joint activities. We also invited the businessmen to visit Georgia in March, and hope our cooperation will soon produce specific results," Jemal Inaishvili, Director of the Chamber of Trade and Commerce of Georgia, stated.
Zurab Pololikashvili, Minister of Economic Development of Georgia, who was also part of the delegation, said: "Specific companies have already expressed their interest in particular fields, including some who are interested in medicine, large companies working in the agricultural sector, etc. All of them have great experience and ideas they will start implementing in the next few months," the Minister stated.