British-Georgian partnership project declared a success
Friday, January 22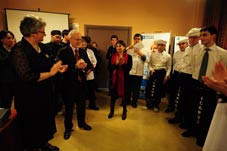 The British Council has marked the successful partnership between the Icarus Tbilisi Vocational Training Centre and Dundee College in Scotland at a reception on 20 January at the Icarus College of Tourism.
Skills@Work is a 3 year regional project in South East Europe (18 countries) run by the British Council. The project aims to support the development of national approaches and employment solutions within the context of EC themes and tools. It aims to link learning, work and enterprise across South East Europe through partnerships with the UK to improve productivity, labour mobility and participation in the labour market. It builds on the experience of the UK in addressing the challenges of developing young people capable and confident enough to enter the competitive European job market.
The project promotes links between education and industry, and encourages developing the skills employers need, which make young people employable in a global labour market. The programme focuses on building strong relationships with industry and employers, Governments and training providers across the region.
The project has 4 main strands:
• Partnerships between institutions
• Policy dialogue
• Enterprise awards/business competitions
• Survey
The project aims to support skills development in these regions by strengthening national reforms in vocational education and training and encouraging closer links between education and industry. The main focus of the international partnerships was the development of industry-linked curricula, supporting materials and quality assurance systems and the transfer and exchange of knowledge, best practice and innovation.
Through establishing industry-driven curriculum models in key sectors of the economy the project aimed to equip young people with the technical and generic skills that employers require. These are to act as models of good practice, may contribute towards more widespread reform in the participating countries and provide a platform for sustainable international partnerships. The partnerships also gave opportunities for staff development and student exchange/collaboration, gaining an understanding of important reform agendas in participating countries and developing sustainable relationships in emerging markets.
Within the framework of the Skills@Work project vocational colleges have been partnered to work on joint projects for the two years since March 2007 and share the experience of Georgia and the UK. Over these two years representatives from Dundee College and Icarus have been visiting each other to familiarise themselves with school structure, curricula, teachers and students and holding meetings with various business partners and stakeholders. The visits also involved in-depth research into each other's institutions, courses, employer links, working contexts etc. to provide the space for jointly developed work plans.