You will not get your land back soon, says Estonian President
By Salome Modebadze
Friday, January 22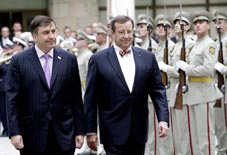 During a visit by President Saakashvili to Estonia Estonian President Toomas Hendrik Ilves has stated that Georgia's territorial integrity will not be restored in the near future and Georgia needs to show patience and commit itself to the successful construction of the country.
"It would not be fruitful to waste energy on problems that cannot be resolved in the near future," the Estonian President said, according to his Press Office. "Georgia needs to show strategic patience and commitment to the successful construction of its country. Many countries, including Georgia's allies, know that unfairness is always temporary. There is always a chance to change the situation. Georgia will have a chance. Just stay alert to seize the moment," Ilves said at joint press conference on January 20 in Tallinn.
Ilves highlighted Estonia's support for Georgia's territorial integrity and underlined that Estonia will never recognise Abkhazia and South Ossetia. "Estonia will always encourage Georgia in the international community. Estonia fully supports Georgian territorial integrity. We definitely realise how difficult the situation is in your country and we are doing everything to resolve the situation in a diplomatic way. Georgia will by all means become a member of NATO," he added.
Ilves talked about Georgia's economic development and emphasised its "amazing progress with regard to economic reforms", adding that the country has also carried out reforms in democracy and rule of law.
Saakashvili highlighted Ilves' great service to Georgia as an economic counsellor. "I should stress that several economic reforms in Georgia, after implementing which we were given 10th place in a list of successful countries, were made on Ilves's advice. I recall how terrible the situation was in Georgia 5 years ago in political and economic terms. The situation has definitely changed. Georgia is now among the leading countries in business development, economic reforms and democratisation. I am glad that Estonia had always supported us," Saakashvili stated, bestowing on Toomas Hendrik Ilves the Order of Saint George as a symbol of the loyalty between the two countries.
Saakashvili also delivered a special lecture on the political situation and current challenges for Georgia at the Ministry of Foreign Affairs of Estonia. Political figures and experts attended and debated the issue.
"The lecture given by the President of Georgia is important for society. This lecture defines his viewpoint about the current problems in Georgia and highlights opportunities for resolving them," Nino Kalandadze, Deputy Minister of Foreign Affairs of Georgia, told the media. "The President's lecture gives a summary of the situation in Georgia nowadays. This is a very interesting issue in a variety of ways. I happen to have attended several such lectures by the President of Georgia and I must say they were a wonderful master class of geopolitics," Nika Rurua, Minister of Culture, Monument Protection and Sport, added.